Portable Beauclaire barbecue
Beauclaire BBQ's are an ideal portable barbecue for use when holding a small barbecue party or when camping. The Beauclaire Gas Barbecue Grills set comprises of a burner, cast iron griddle, paella pan, legs and a carry bag.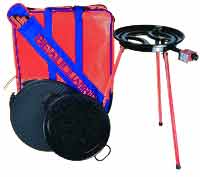 The popular and durable outdoor cooking system is a combination gas barbecue grill of unique design that will prove to be the answer to all your outdoor cooking requirements.
The Beauclaire Gas Barbecue is available in a flat pack version for travelling, or on a trolley for use at the home barbecue party.
The Outdoor Cooking System consists of a gas burner with its unique flame pattern, offering perfect heat coverage, and a range of matching griddles and pans, depending on your choice of cooking.
Beauclaire "Original" Gas Barbecue
This is very similar to the very original Beauclaire introduced 11 years ago. The gas burner is now fitted with a removable windshield, which is lighter, more effective and enables easier cleaning. The enameled cast iron griddle allows for cooking crepes on the smooth side as well as steaming and boiling vegetables, kettle etc. If or when you are ready to build up the complete beauclaire original set, the separate paella pan, the heavy-duty bag and all the accessories are available individually that will provide you with an excellect cooking solution.
Beauclaire "Light" Gas Barbecue
The Beauclaire gas bbq is for those for whom weight is important. Identical to the Beauclaire Original described above but with the key difference of a new lightweight griddle whose features include: 4.5 kg lighter, industrial quality non-stick surface, smooth area for eggs, mushrooms, tomatoes etc, ridged area for the rest of breakfast and the classic BBQ, excess oil/fat drip-off point with drip can and holder combined with 2 hooks for hanging tools, substantial beautifully designed handles for firm grip and the lightweight griddle is also available as an additional item to the Beauclaire Original Gas BBQ. The Beauclaire cooks for up to seven people.
Beauclaire Gas Barbecue Accessories
To further enhance your barbecue experience there are additional accessories available such as a, Paella Pan, Fry Pan, Cast Iron Griddle, small and family size carrying bags.
Accessories packs are included, a griddle cover, burner cover, stainless steel turner, griddle brush, and leg levelers.
Current Deals on Portable Gas Grills