Superb range of Bradley Smokers
The Bradley Smoker is a unique smoke house, sold complete with its accompanying smoke generator, in which flavor bisquettes are burned for 20 minutes each so that the temperature does not fluctuate, thus eliminating the high-temperature gases, acids, and resins that can distort the flavor of smoked food.  It is light enough to carry and is about the size of a small fridge.
The Bradley Smoker makes clean tasting food without any aftertaste. While other smokers need to be tended constantly, the Bradley Smoker automatically produces clean, cool smoke for up to 8 hours safely and without intervention.
Best Deals on Bradley Smokers
Bradley Smoker BS611 Electric Smoker, One Size, Black
4 new from $399.99
Free shipping
as of September 29, 2023 2:36 am
Features
Large Capacity Smoker: Our digital smoker is specially designed to accommodate the 4 included racks; This meat smoker allows you to feed a couple or a crowd when smoking turkey, chicken, ribs or brisket
Professional-Grade Design: Perfect for professional chefs and food smoking fans, our fully automatic electric smokers allow you to simply load in your bisquettes and smoke for up to 9 hours
Dimensions: Our digital outdoor smokers measure 19 by 22 by 35 inches and 24 inches wide with the generator is attached; Feature a 4 by 11 by 13 inch cooking area
Easy To Clean: Our electric grill features an easy-to-clean stainless steel interior that will not rust; Smoke diffuser system keeps the smoke flowing, eliminating dirty smoke and preventing "black rain" from dripping on your delicious smoked food
Master Smokers: We developed Bradley Smoker products to produce the best smoke flavor possible; As we say, "It's all about the flavor," so enhance your dining experience and enjoy delicious smoked dishes today
Bradley Smokers BS916 Smoker, 40.5" Height x 24" Wide x 14.25" deep, Unknown
out of stock
as of September 29, 2023 2:36 am
Features
Sport Type: Camping& Hiking
Bradley Smoker Reviews
Bradley 4 Rack Digital Smoker
The new 4-rack Digital Smoker includes all the features of the Original Bradley Smoker, along with the benefits of digital technology. Temperature, time, and smoke are now completely controllable so you can decide how much smoke you want, how long your food is going to be smoked for, and at what temperature.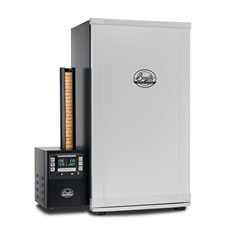 Perfect for entertaining, creating gourmet foods in your own home, or just enjoying the flavor that smoking brings, the new Bradley Digital Smokers offer an easier and better way to automatically roast, smoke and barbecue in the outdoors.
Bradley Propane Smoker
The wonderful world of gourmet smoked food now comes in the lightweight and portable Bradley Propane Smoker, with all the same features as our original world-famous smoker. Whether you are looking for hot smoke or cold smoke in the great outdoors…the possibilities are all there!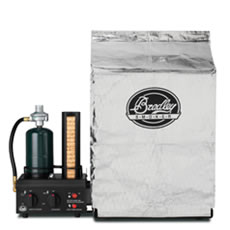 Plus, it burns Bradley Flavor Bisquettes automatically with the power of AA batteries and propane and comes with a sturdy carrying case.
Best-selling BBQ Smokers
Create the perfect dish of hot smoked salmon on your boat, after catching your fish that very afternoon. How about mouth-watering buffalo wings at your next tailgate party? Or maybe you'd like to wake up the family to the smell of smoked ham for breakfast at the campsite!
Buying a Bradley smoker
Bradley smokers represent the highest quality and functionality at a price everyone can afford, and you can be assured that when you purchase a Bradley smoker, you are making an excellent choice and a long-term investment for your cooking requirements.
The flavors that permeate fish, meats, and poultry have to be tasted to be believed, and if you are looking to purchase a smoker, you will have no trouble finding the right Bradley smoker.
Bradley Smokers are affordable and up-to-date. Inexpensive propane Bradley Meat Smokers are lightweight and portable. You can enjoy wonderful gourmet foods anytime, anywhere.
In addition, Bradley offers a 4-rack digital smoker which includes the famous Bradley barbeque system along with digital technology. Bradley offers accessories including heavy-duty aprons, digital thermometers, recipes, racks, and more. To help you before you get the meat to the smoker, Bradley offers Piranta knives and holsters and dry and liquid cures in many flavors.
Bradley offers a wide range of books on salting, smoking, curing, and cooking. They offer specific Bradley books for smoking salmon and others for wild game. Look here for reviews of Bradley products and new and used discount Bradley smokers.