Introducing the incredibly portable Cobb BBQ
Take a look at the highly versatile Cobb Portable Grill and Cooking System.  Weighing only 8.5 lbs., the heat efficient Cobb Grill uses only 8 – 10 charcoal briquettes for a heat-sustained cooking period of up to three hours.
The Cobb BBQ Cooking System is a portable barbeque and grill in a league of its own.  Unlike other portable cooking systems, the Cobb Grill can roast, bake, smoke. saute and fry (even bake a decent sized pizza) while the innovative cool-touch base makes the Cobb bbq truly portable. Don't let the small design fool you, the cobb grill can easily cook for a family of 4 to 6.
Small it may be, but the ingeniously designed Cobb BBQ is a cooking vessel that has few equals in terms of size, versatility and portability.
The Cobb bbq reaches over 500 degrees inside, while the base is completely cool outside. Whether your liking is for lamb and turkey or fish and vegetables, the Cobb bbq takes care of your meal with gusto and cooks it to perfection.
Here is a breakdown of the Cobb premier unit (excluding accessories)
Dome: Stainless steel. Warm to the touch when cooking. Won't burn.
Grill: A excilon ceramic coated cooking surface for roasting, barbecuing, baking and smoking. A lifting fork is provided for handling the grill when hot. Drains fat and oil into the moat. No mess, no smoke.
Fire Basket & Pot Stand: Stainless steel. Holds heat beads/briquettes when in the fire chamber.
Bowl: Pops out of base for easy cleaning.
Fire Chamber: Holds a fire basket. Fire-lighters are placed in the fire chamber to ignite the heat beads.
Moat: Holds 250ml of liquid (water, wine or beer) and seasoning for cooking vegetables. Also, the liquid moistens and flavors the roast.
Base: New! The premier base is manufactured from high-grade stainless steel. allowing the Cobb to be safely loaded with extra briquettes, it is more robust and has an aesthetically improved appearance.
So how well does the Cobb bbq perform?
Well, what can I say, impressed or what, from opening the box to set up the Cobb ready to ignite the charcoal was simply a matter of seconds, there is no bother of having to build a stand or ensuring it is facing in the right direction to avoid the wind, you simply take the lid off, remove the grill grid, remove the fire grid and insert the lighters?
Light them up and replace the fire grill loaded with your charcoal and leave to burn for around 20 minutes, it is best to do this bit outside or in a well-ventilated area as it gives off some smoke, once the charcoals are grey in color you can bring the Cobb back inside (still in a ventilated area) but the cooking gives off no more smoke than you would get if cooking normally.
I cooked an array of dishes from the cookbook that is available – Cooking the Cobb Way including roasting a 1.5kg chicken (that is about the biggest that will fit), through to smoking fish and of course using it as a bog-standard BBQ. The meat came out crispy on the outside and succulent on the inside and because the fat drips into the moat it is even quite healthy.
I used the moat to cook my veggies in and they came out very tasty too.
Being able to cook almost smoke-free inside is a real bonus and with the casing never getting hot and the feet keeping the Cobb off the ground or table, you are safe to cook pretty much anywhere you like, I used it on our wooden table and no damage was caused at all.
I did find that the more I kept checking the food, the longer it took to cook, so patience lessons for me, not that you need much patience with the Cobb BBQ, this has to be one of the greatest and most essential bits of outdoor equipment there is on the market.
The efficiency that is provided by the Cobb BBQ is amazing, 3 hours cooking time with just 8 or so briquettes is almost as cheap as cooking at home in the oven.
Over the years I have spent plenty of money buying BBQ after BBQ and always ending up throwing them away or storing them in the garage because they are too small for the family, or too big for the trailer tent, but Cobb may have come up with the solution, a one-off investment for a BBQ that will stand the test of time and provide long cooking times with minimal fuss and cost and which only weighs 4KG.
This is definitely a huge thumbs up for the Cobb BBQ. (Caution, charcoal gives off Carbon Monoxide which can be fatal, please ensure that if using this product inside you have good ventilation to allow the carbon monoxide to disperse.)
Incredible portability with the Cobb bbq
The Cobb came with a bag for it to go in that's very sturdy (it depends on the package you buy as to whether the bag is included. I recommend you get it). If you're going to move it as soon as you've finished cooking though because the lid will be hot it can't go straight back into the bag. I haven't found this to be much of an issue.
Before going on a trip I always split heat beads and firelighters into contents bags, each with 8 heat beads and 2 firefighters, enough for 1 cooking session. You can get 10 or so of these bags packed into the Cobb in its bag.
I haven't tried cooking with the Cobb in the canoe yet, but on a still day, I think you easily could. I think I'd put it on a seat rather than on the bottom of the canoe while it was flaming so that the flames wouldn't blow into the side of the canoe. You could then move it into the bottom of the canoe once it is ready to cook. You'd also need to make sure there was somewhere safe to put the hot lit while you tend to the food or to be on the safe side cook without it.
Cobb BBQ features and benefits
Unique Design,
No moving parts – nothing to go wrong,
High-quality materials – won't rust and long-lasting,
Safe to carry whilst cooking – no chance of burning yourself if you have to move it,
Economical – only uses 4 – 9 briquettes,
Easy and quick to clean – stainless steel bowl and dome, xylan coated non-stick grill,
Smokeless – can be used virtually anywhere, inside, undercover etc,
Portable – optional carry bag available, simply load up with fuel and away you go,
Compact and light – Only 280mm x 340mm,
Accessories available – carry bag, recipe book and coming soon a frying pan and wok,
Full 2-year guarantee,
Versatile – it's a BBQ, an oven, a stove, and a smoker,
Judged by TIME magazine as one of the best inventions of the year in 2001
The most popular portable barbecue
With just four to nine briquettes, the portable Cobb Barbecue can give you up to three hours of cooking time.
The unique space-saving Cobb barbecue is so versatile that you are able to barbecue roast, fish, chicken, lobster or vegetables.
You are able to bake bread, scones or pizza, as well as stews, soup, and vegetables.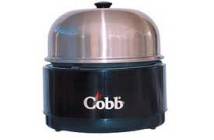 The Cobb barbecue uses standard barbecue briquettes which will provide enough heat to cook on for about 3 hours. The long burn time with so little fuel is due to the fact that the airflow through the system is designed to achieve a constant burn rate, and that all fats and cooking juices are directed away from the briquettes.
This ensures that there are no flare-ups to increase the burn rate of the fuel, no smoking and most importantly no unhealthy carcinogenic charring of the meat.
The Cobb barbecue is dome-shaped and made of stainless steel. It has an easy-clean cooking surface for roasting, barbecuing, baking and smoking, and is coated with an insulating material. Warm to the touch when cooking, it won't burn if you happen to touch it. A lifting fork is provided for handling the grill when hot. Drains fat and oil into the moat, with no mess and no smoke.
The Cobb barbecue has a unique design with no moving parts, which means there's nothing to go wrong, and is made of high-quality materials, it means it won't rust and is long-lasting and economical.
It's safe to carry when you're cooking, so there's no chance of burning yourself if you have to move it, and it's very economical using only four to nine briquettes.
You'll like the fact that it's smokeless, easy and quick to clean, with a stainless steel bowl and dome, and xylan coated non-stick grill.
Cleaning the Cobb Barbecue
Cleaning the Cobb barbecue is simple. Allow the briquettes to fully burn out and then soak the grill in warm, soapy water, remove the inner sleeve and discard the ash, wipe out all liquids and fat.
Then wash the inner sleeve and fire grid in warm soapy water and wipe the base down with a damp cloth. Job Done!
Cobb Accessories
The Cobb barbecue comes with a variety of accessories to make cooking even easier. You can choose from the Cobb Carry Bag, Cobb Recipe Book – Cooking the Cobb Way, with forty mouthwatering recipes and the Cobb frying pan and wok set.
Should you be so unlucky as to break or damage any parts of the Cobb barbecue they are available seperately.
Over the years we have spent a great sum of money buying portable BBQs and they always seem to end up being thrown out or being stored out of the way due to the fact that they are simply too small to cope with a family size meal.
This time though it seems that Cobb barbecue's are the way forward for small families and outdoor living people who want a capacious cooking device that is not too large to take with you regularly. Simply put, the Cobb barbecue is one of the best portable barbecues on the market and will give you many years of reliable service and cook great food as well.
Buy your Cobb BBQ at a great price
Healthy, smoke-free, and very safe, the smoker's exterior remains cool to the touch–even with cooking temperatures up to 500 degrees F.

Place it on any surface without having to worry about burn marks.
With unsurpassed cooking efficiency, the grill burns for up to three hours on just eight or nine briquettes, which means less weight on the trail and less bulk in the trunk!
Get your Cobb Pro now at an incredibly low price of $99.99