While a residential barbeque is sufficient for most backyard grillers, Commercial barbeque grills are often used by serious grillers who use their grill three or more times a week, so if you use your grill that often or own your own restaurant, then a commercial grill may be right for you.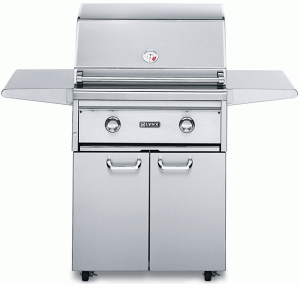 Commercial barbeque grills are generally built larger and sturdier than regular barbeques. They come in many different types and styles depending on your needs, including indoor, outdoor, and even portable commercial grills if you have to grill at parks, beaches, vacation homes, and other destinations.  Some of the portable commercial barbeque grills can also double as a smoker, and you can also bake in some as well.   Commercial barbeque grills are often used by restaurants, caterers, professional cooks, and many others who barbeque frequently.
The main difference between commercial and ordinary backyard barbeques is that commercial barbeques are made for high use and heavy-duty cooking. Commercial barbeques are generally larger and stronger than the average barbeque, stainless steel being a popular choice to make commercial barbeques out of. Commercial barbeques can also reach much higher temperatures than the ordinary backyard barbeque, allowing commercial barbeques to cook more food at a faster rate.
Deals on Commercial-grade Grills
Grill Options
As with ordinary barbeque grills, you have several different options when it comes to fueling your grill, including propane, natural gas, wood, mesquite, charcoal, and electricity. Like residential gas grills, commercial gas grills can be a great option for your grilling needs because they are versatile, easy, and they provide great flavor and great results for your food.
While there are many heavier duty commercial grills intended for restaurants and businesses, there are also many commercial-grade grills for those who simply love to grill and use their grill often.  These options are often much cheaper than those commercial grills that are intended for restaurant use. While a normal outdoor grill will do for the casual griller, those who are serious about grilling should look into a commercial grill as a possible option to suit all of their needs.
Commercial Grill Reviews