In the past few years, Kamado style grills have gained some good popularity. However, most of the grills found in the market are almost the same. Vision Grills has recently launched its patent-pending Pro Kamado Barbecue grill which is not just another Kamado-style grill thanks to some unique and useful features of this grill.
Good thing is that the grill is portable and can be somewhat easily moved from one place to another as it weighs around 280 pounds whereas the four wheels help you further if you want to move it around. It has a nice design and wouldn't give any bad looks to your patio.
Click Here for customer reviews…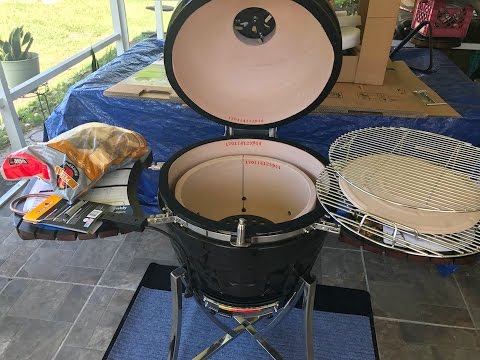 You can easily shift the temperature between 200° and 700°+ thanks to the dual calibrated bottom draft knobs which are combined with a top calibrated draft to make this happen. Its construction seems quite strong due to the thick ceramic, which also provides users with a convection cooking environment for even cooking, superior heat retention and temperature control.
The superior retention of this grill also increases the consumption of coal and leaves behind less ash whereas the self-contained cooking environment reduces flare-ups and hot spots as well. So, you can Grill, smoke or even sear within just a few minutes.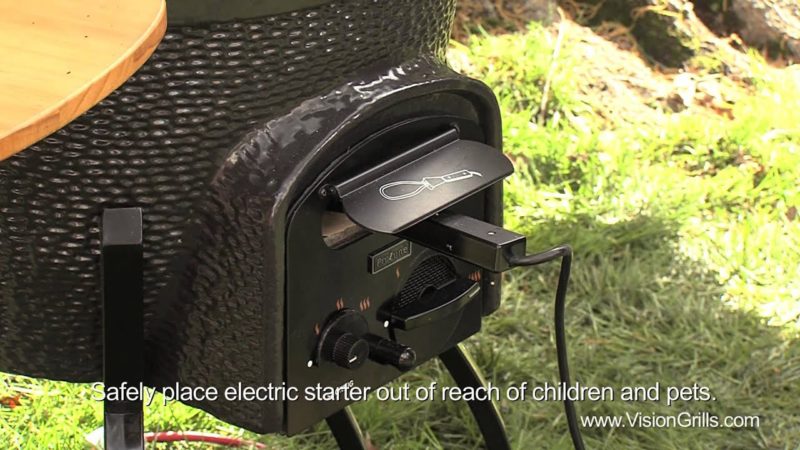 The anti-tip cart ensures that your grill doesn't tips (which can be somewhat embarrassing) while you're cooking food for your friends and family. Obviously, when you cook you need some space to place sausages, spices, flavors, etc. which Vision Grills has provided in the form of 2 side shelves.
It might not be 'huge' space but it gets the job done. Some other useful things about this grill are its vinyl cover, stainless steel flip cooking grate, heat deflector, and cooking stone. Moreover, the electric start makes things easier and the good thing is that it doesn't take too long to heat up.
It seems like Vision Grills Kamado Pro is an all-rounder as it gives users better temperature control options, quick starting and it is easy to clean thanks to Vision Grills ProZone. The ceramic construction of Kamado Pro eliminates the risk of burns from exterior contact and enables them to grill all over the year with temperatures ranging from as low as -30° to over 100°.
On the other hand, parts that are non-breakable eliminate any problems found in gas grills which include non-electric starters, corrosion of burners, inconsistent flame controls, and inoperable electronic igniters.