The process of cooking with charcoal barbeque grills involves dry heat being applied directly to the surface of food – otherwise known as direct grilling.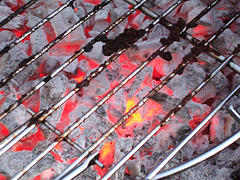 This is as opposed to indirect grilling which involves a standard grill with a lid, but with the meat placed at a distance from the heat source – not directly above it, and therefore lower cooking temperatures.
This effectively roasts meat in a more oven-like setup.  Charcoal is still the most popular fuel for barbecue grilling, although gas is catching up fast.
Where gas grills are highly convenient to use, the charcoal grill is for those who like the ritual of lighting a fire and controlling it to cook to perfection.
Personally, I prefer charcoal barbeque grills, they add a smoky char-grilled flavor to meat – and there's something manly about controlling fire to cook on them!
Outlet Deals on Charcoal Grills
Charcoal Grill Reviews
Charcoal Grill Features and Designs
A simple charcoal barbeque grill consists of a grate to hold the coals, with a metal grid for cooking above it. Cheap or specifically portable models may consist of nothing more than this (this type is technically called a brazier).
Most charcoal BBQ grills have legs (with or without wheels), a lid (with or without vents), and should have a height-adjustable cooking grid. They can be rectangular or circular in shape – or spherical in the case of kettle grills of which I am a big fan – they are well worth considering.
If you don't have the DIY skills to build a BBQ pit out of an old oil drum, you can buy something that looks the same – the barrel shape is a traditional and practical design.
The Char-Griller 2222 Pro Deluxe Charcoal Grill at $150 is a fine example of this shape of the grill for the price. The lid gives you the opportunity to try indirect grilling and smoking – both ideal for large cuts of meat that don't cook too well via direct grilling without the lid.
With the lid up you can still grill burgers, corn on the cob and all the usual favorites.
If you want real bargain basement stuff, the Marsh Allen 717HH-1 Golding Charcoal Grill is very cheap and cheerful and could last a few years if you keep it your garage between barbecue sessions.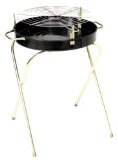 Amazon has a massive range of charcoal grills from unbelievably expensive right down to foil disposable versions.
Amazon's whole range of charcoal grills can be seen here.
Direct Grilling over Charcoal
Temperatures can reach 500F/260C or more and food cooks quickly, so controlling temperature is the main skill to master.
Turn the food frequently and adjust the height of the cooking grid, either closer or further away, as you need to, to maintain constant heat.
Use tongs rather than a fork for turning, or better still put a quantity of food in a hinged gridiron.

A fork will pierce the food and cause juices to drip on the coals causing flames and therefore burning flames = bad i.e. burnt food.


Where to Find the Best Charcoal Grills
Search Amazon.com for gas grill deals on these well-known brands:
Weber charcoal grills
char-griller
char-broiler charcoal grills
Brinkmann charcoal grills
Landmann charcoal grills
Basics of a Charcoal BBQ
The beauty of a charcoal grill is its simplicity. At the base of a quality charcoal BBQ is the charcoal griddle to put the charcoal fuel on, some of which have an adjustable height mechanism that allows you to place your food further away from the heat which gives you more control over overcooking your food.
Construction
Use your eyes and your hands when you view a charcoal BBQ at a local retailer. Move the grill on its stand to ensure that there is no wobble, and examine the fittings to ensure that they look well secured and unlikely to fail for a long while to come.
Choose a charcoal BBQ made of high-quality steel. Also, choose a ceramic finish if possible, these retain heat very well and are easier to clean. The stand should be strong, castors should turn without a problem, and the BBQ should have a quality finish.
Grates
Cooking grates are usually constructed from heavy gauge plated steel or chrome-plated aluminum. A denser, heavier-gauge cooking grate will last for many years and diffuse and retain the heat more efficiently. Charcoal BBQ Grates that are coated with a ceramic finish are a common upgrade and one that you should consider purchasing.
The best grates are made of cast iron, stainless steel, or porcelain-coated aluminum or cast iron. Note that while ceramic coated parts are particularly efficient in some respects, they are also quite easy to damage. So extra care needs to be taken when cleaning them to avoid grazing and chipping the finish.
Assembly
When choosing a charcoal BBQ grill, you should be looking at ease of assembly. See if you can take a look at the instruction manual that comes with the particular charcoal BBQ that you are interested in, and see what work and tools are involved to complete building the BBQ.
See if the BBQ requires special tools to complete the build and also check that the supplied fittings are complete and in good order before starting the construction of the charcoal BBQ grill.
Maintenance
You will also need to look at the manufacturer's enclosed warranty, and see if there are dealers who are local to you who are capable of supplying replacement parts easily and inexpensively should a part of your charcoal BBQ become damaged.
Some manufacturers have a website that offers parts delivered to your door via their online store, so check to see that the parts for your charcoal grill are readily available.
Safety
Ensure that the charcoal BBQ is well designed. Are the griddles easy to move and handle?
Does the grill or BBQ legs or stand move as it should? Any additional force required to operate parts of your charcoal grill could mean the difference between having a well-cooked barbecue or a well-cooked body part.
As always, have a bucket of water, a fire extinguisher, and a good pair of tongs and oven mitts to use during the operation of your charcoal BBQ.
Shop Charcoal Grills