When it comes to backyard cooking, the Weber Performer Charcoal Grill has certainly entered the game with a splash. Now you can grill in color with models coming in black, green, and dark blue. We're talking about the Weber 15407001 Performer Premium Charcoal Grill, 22-inch, and it's a value purchase with a low price and great features! This is an ANSI approved grill. The American National Standards Institute ensures standards for productivity, increased efficiency, and reduced costs.
Click Here for customer reviews…
Here is a barbecue grill that appears to have everything going for it. Enjoying the quality construction by Weber, this outdoor appliance comes with its own charcoal storage container and is equipped with Weber's Touch-N-Go gas-ignition system. As the old saying goes "just add water" but in this case, it is "just add meat or vegetables."
Many people find it comforting to see that the products they use are made in the U.S.A. The image on the right is from the shipping container for the Weber Performer charcoal barbecue grill. In addition, Weber has made the claim on their website in the past that "Weber charcoal and Weber® Q® grills are manufactured in Huntley, IL and our Genesis® and Summit® series gas grills are made in Palatine, IL using the highest quality components from around the globe." Consequently, customer service and parts availability will be readily accessible.
You can see our Weber One Touch and Performer charcoal barbecue grills comparison chart here.
What is so special about this grill?
What tastes better on a warm spring or hot summer day than tasty charcoal-grilled beef or chicken? Not much, but you can try corn on the cob, peppers, zucchini squash, onions, or just about any vegetables.
Everything tastes better when it's charcoal-grilled, and outdoor grilling is just about the best way to go. For an extra tasty pick-up, try grilling citrus fruits, open-faced, to get a nice smoky flavor. Those add wonderful flavor to drinks, as a marinade, or even as the base for a fresh, homemade salad dressing.
Now is the best time to buy those summer items. Purchasing a Weber Premium grill now allows you to get the best price. And it gives you a jump-start on those warm-day preparations.
When I started to look at this grill, I asked myself the question above. What is so special about this particular grill that makes it popular with so many people?
The Weber name
From its beginnings in 1952, the Weber barbecue grill has almost become synonymous with the term barbecue grill.
The familiar kettle bowl
One of my first grills was a brazier style grill (flat bottom, straight sides, wire grate, no lid). This is the same thing that George Stephen, Sr. faced when commencing his pursuit to build a better grill. This led to his designing the kettle bowl with the domed lid which has become a signature style for the Weber charcoal barbecue grill.
The Touch-N-Go™ gas ignition system
This system ignites those tough to light charcoal briquettes with a touch of a button. Utilizing the small propane canisters, you can quickly establish a burning flame that will have the charcoal burning in a relatively short period of time.
Built-in charcoal storage container
I never did find the task of wheeling my charcoal grill out to the appropriate spot in the backyard and having to go back and retrieve that 20 lb. bag of charcoal appealing. With the Weber Performer, you can do it all at the same time. And with the propane gas ignition system, you have also eliminated any need for those chemical starter fluids.
And Finally
A fully integrated Weber 22.5″ One-Touch Gold charcoal barbecue grill with a factory assembled stainless steel One-Touch™ cleaning system, a removable black aluminum ash catcher, a thermoset work table, and a heavy-duty cart frame with all-weather wheels and locking casters.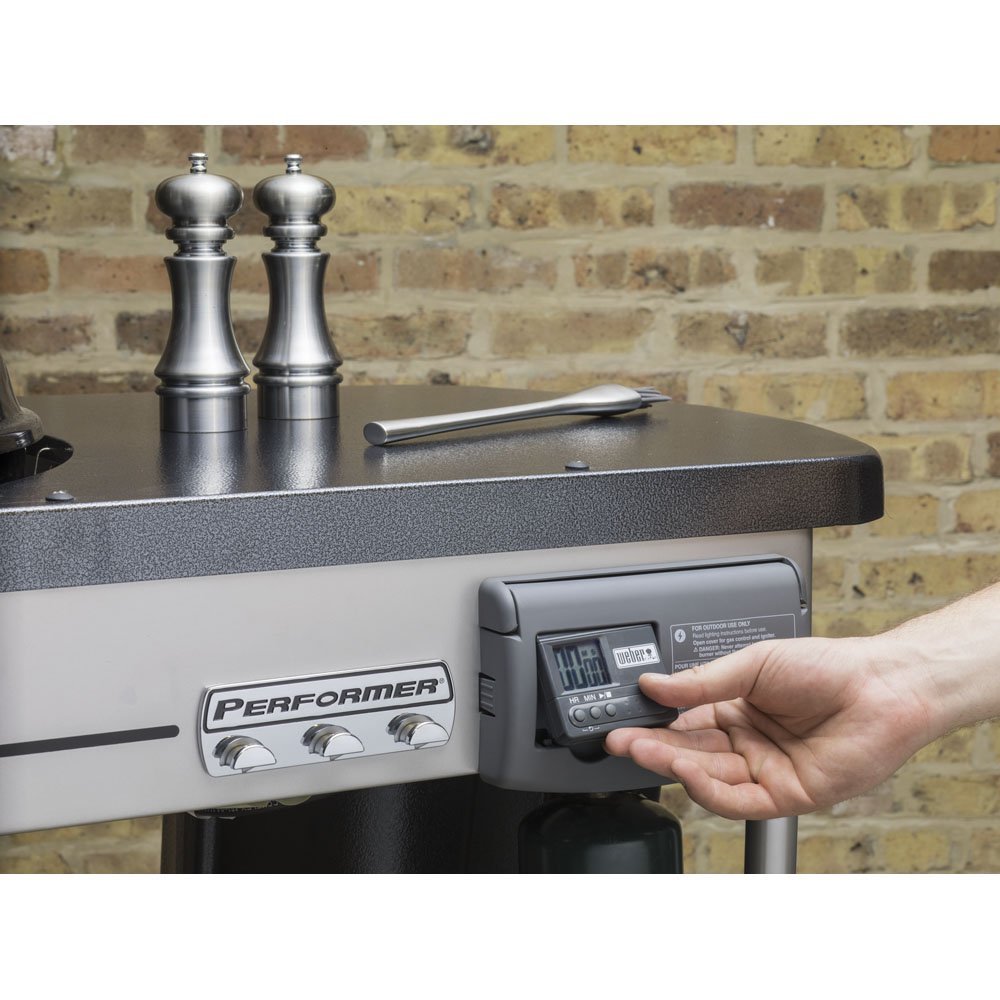 Are there any downsides to this particular charcoal barbecue grill?
Cost may put some people off. With the non-sale price hovering a little over $300, the Weber Performer appears to be a bit overpriced when pricing individual components. However, when you put together the advantage of having the individual components in one complete package, the fact that no messy chemical or paper is needed to start the charcoal, and included weather-protected charcoal storage container and an abundant work surface included, may just be enough to justify the cost.
First, we start with the Weber 22.5-Inch One-Touch Gold Charcoal Grill
Then since there is no Touch-N-Go™ gas ignition system, we need something to help light the charcoal. A Chimney Charcoal Starter does the trick.
Next, we would need to get a comparable work table that fits the One Touch Gold grill.
What else would be needed to even come close to the Performer would be the charcoal storage container. Even then it would not be part of the combined unit.
The combined individual component cost would probably be less than the Weber Performer by itself. You would have to be the judge as to whether or not the additional convenience of everything in one place and the ease of the Touch-N-Go™ gas ignition system is worth the extra cost.
Plated Steel and Stainless steel grates
Weber's charcoal grills all come with either stainless steel or plated steel cooking grates. While not a biggie, I prefer to cook with cast iron grates. Cast iron heats nicely, holds the heat, and provides that all-important sear mark on your grilled food. One potential source (albeit an expensive one) for cast iron grates to fit this grill would be Craycort.
Is the Weber Performer charcoal barbecue grill for you?
If you are looking for a charcoal grill that has everything wrapped up in one convenient unit, then this one is for you. With ample cooking space, sufficient working space, the gas ignition system and wheels and casters to enable movement, you will not go wrong with this unit. Backed by Weber's quality construction, this grill will last for several years.
Statistics:
Hinged, plated steel cooking grate
Plated steel charcoal grate
Aluminized steel one-touch cleaning system
Easy to remove, high-capacity, aluminum ash catcher
Expedient electronic ignition with touch and go system
Convenient, large-sized, easy to readily removable LCD cook timer which can be efficiently removed so the grill master can carry it inside while he waits
Built-in thermometer
Porcelain-enameled, bowl and lid, 22-inch diameter
96 lbs. food capacity
43 ½ inch by 30-inch by 48 inches assembled dimensions
Other Features
Other convenient features include the built-in thermal preparation platform with plenty of room for your grilling needs, three utensil holders, two charcoal basket fuel holders, and the durable steel cart frame. Additionally, the two wheels are constructed of strong, eight-inch, rubberized, crack-proof molding that feature two locking casters for added stability.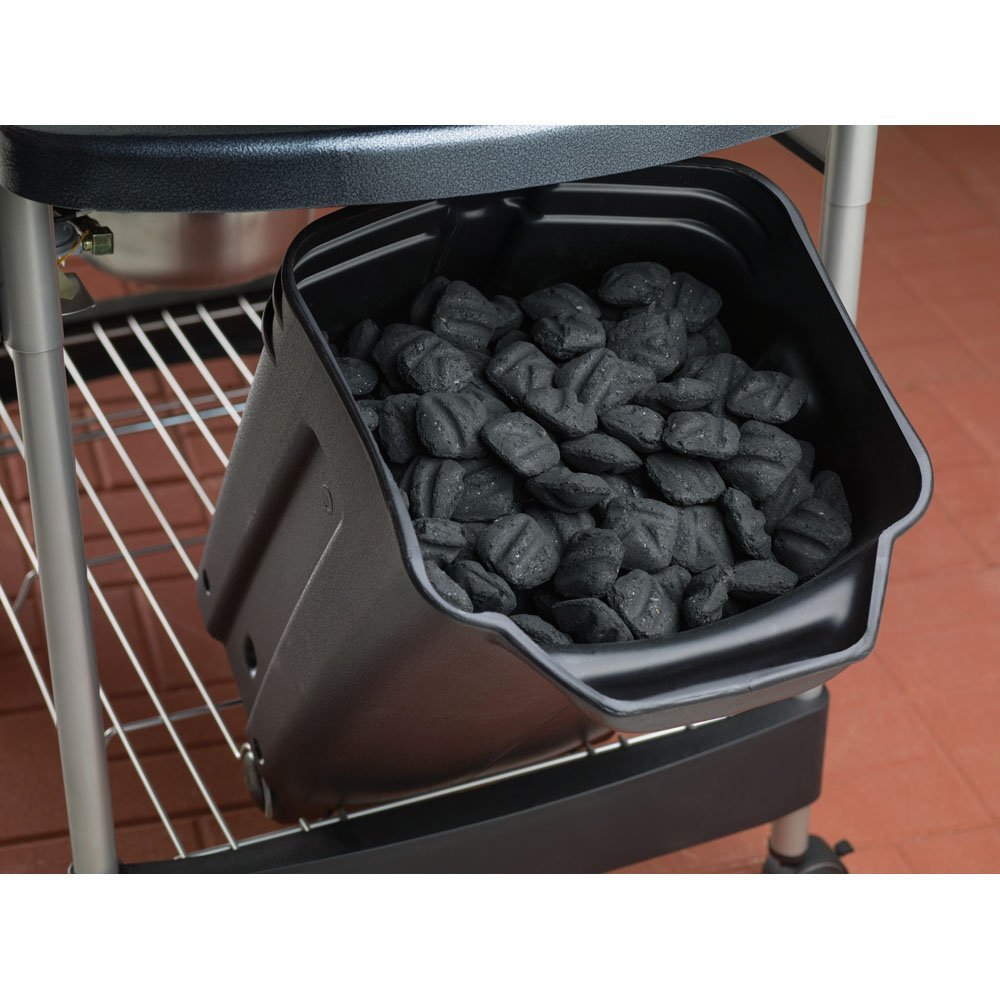 The simple touch and go ignition system allows the grill master the convenience of starting the charcoal in a quick and efficient manner. The premium system even features a charcoal briquette storage bin to keep your fuel safe from the elements. Along the same line, with the porcelain coated and aluminized features on this grill, the master griller doesn't have to worry about a sudden rainstorm. This is a rust-free set.
Some of the other important features include the wire bottom storage shelf; the glass-reinforced nylon handle, and the rustproof aluminum vent.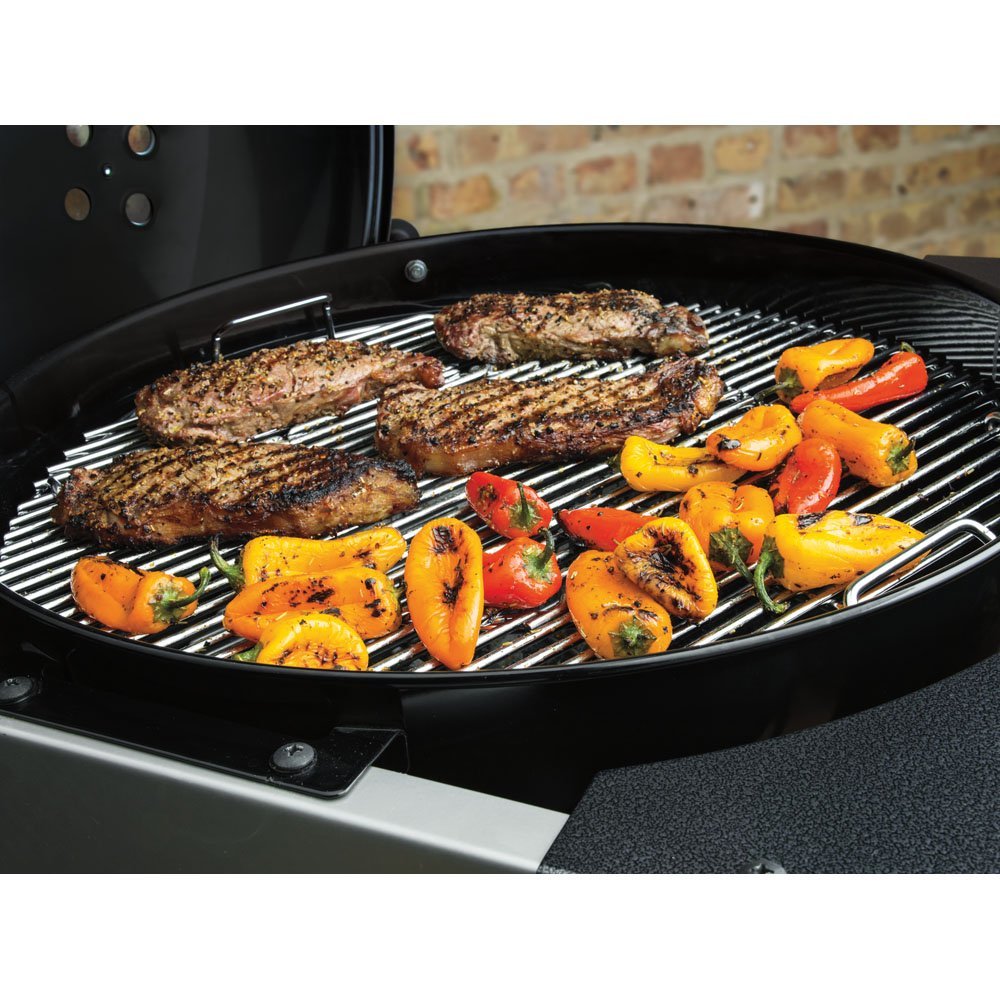 Each Weber 15407001 Performer Premium Charcoal Grill system comes in a variety of pleasant colors. This is one of the safest, most durable, and most convenient, easy to use systems on the market. Any time of year is the right time to make this affordable, smart purchase.
The Weber Performer Premium Charcoal Grill is truly a performer and it allows the grill master to prepare delicious fare with the ease and convenience of gas grilling, but with the wonderful, delicious, smoky flavor-infused foods that only a charcoal grill can produce.