Landmann – purveyors of excellent grills and smokers
Landmann USA is a leading manufacturer and supplier of leisure products for indoor and outdoor applications. Our message, "Leisure Living at its Best," are Landmanns' core principles and philosophy.
It is Landmanns continuing commitment to offer the very best in quality, design, innovation, and value.
To prepare juicy barbecue food in the Deep South tradition, Landmann USA has created a popular mainstream range of gas and charcoal grills for household and outdoor use.
Current Deals on Landmann Smokers & Grills
Landmann has made great use of technology by producing their products with high levels of heat efficiency and durability with the added bonus of being particularly aesthetically pleasing.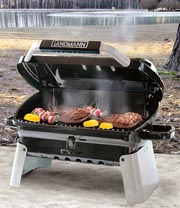 This sets Landmann apart from some manufacturers and ensures that owners of Landmann grills and smokers get the best of both worlds.
Landmann USA produce grills and smokers in a wide range of sizes and are suitable for all applications, from a small tabletop grill up to a large smoker grill that is capable of feeding a small army!
Landmanns' firepits and accessories are also widely available in local hardware stores and specialist retailers, some of whom will stock the latest models in their range such as the Bulldog 42 smoker.
Landmann Grill Reviews
Best-selling BBQ Smokers
What sets the Landmann patio BBQ grill cooker apart from more conventionally designed barbecues, is that it is capable of being utilized as both a charcoal grill, a smoker, or as an outdoor heater.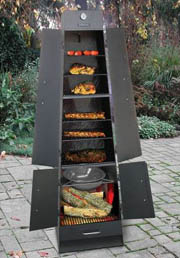 With its unusual and capacious internal cooking surfaces and heavy-duty steel construction, the Landmann patio BBQ grill has a high capacity 1,370 square inches of internal area for the simultaneous cooking of pork, a whole chicken, a beef brisket which is utterly remarkable given the Landmann patio cookers relatively tiny 20 square inch footprint.
A porcelain enameled dish sits just above the flame and fills with the dripping fats before it falls onto the fire, preventing flare-ups which often result in burnt and poor tasting food.
Landmann also provides its patio barbecue grill with six removable porcelain grates that enable you to grill large cuts vertically by allowing you to hang them from a hook that is located in the upper hood area of the cooker.
An exterior stainless steel temperature gauge gives precise grill temperature readings while the doors are closed, adjustable vents regulate heat and smoke, a removable ash pan makes cleaning easy, and a metal screen keeps sparks inside the fireplace when the bottom doors are open.
This twin function patio cooker and grill can use either wood or charcoal, and its distinct ergonomic design enables you to grill, smoke and steams your favorite meat, poultry or vegetables to perfection. The price of the Landmann patio BBQ grill is approximately $350.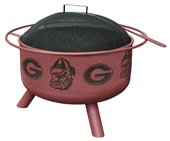 Landmann fire pits are also a very popular model in their range with which you can enjoy the warmth of the fire while enjoying the great outdoors in complete comfort while you cook away.
The laser-cut logo is all around this very sturdy steel large 23.5″ diameter fire pit and can be seen from 360 degrees. This fire pit comes with a full-size enamel-cooking grate, poker, spark guard cover, and a logo vinyl cover! Enjoy high octane cookoffs just before the party.
Shop Landmann Grills & Smokers
Landmann Vista Barbecue Grill
out of stock
as of September 16, 2023 11:35 am
Features
52.1 in. L X 25.5 in. W X 47.5 in. H (44.1 lbs)
Primary cooking size: 374 sq. in
Secondary cooking size: 201.9 sq. in.
Total cooking size: 575.9 sq. in.
Charcoal pan adjusts to multiple positions by crank handle
Landmann 560212 Charcoal Grill, Black
out of stock
as of September 16, 2023 11:35 am
Features
Large grilling capacity with porcelain coated cast iron grates
Charcoal pan adjusts to multiple positions
Chrome plated steel warming rack provides 201 sq. in of secondary grilling space
Large removable ash tray
Large stainless steel handles and temperature gauge
LANDMANN MCO 32954 Landmann Smoky Mountain 26" Electric Smoker-Black-OPP w/Viewing W
out of stock
as of September 16, 2023 11:35 am
Features
3-in-1 combination tray
Non-insulated cooking chamber
Product is 26 inches
Landmann USA 32948 Smoky Mountain Electric Smoker, 26"
out of stock
as of September 16, 2023 11:35 am
Features
3-In-1 tray that holds the water pan, wood chip box with lid and grease tray into one component
Includes rear panel vent port for proper smoker and heat release
Wrought iron side handles for easy transport
Independent plug-in temperature controller to set and maintain temperature throughout the smoking process
4 adjustable feet to level on uneven surfaces
Landmann 12302 800 Series Compact Gas Grill, Silver
1 used from $239.99

as of September 16, 2023 11:35 am
Features
Vertical burner with surface temperature of up to 800 °C
Electronic ignition
Grade 304 stainless steel design
Bluetooth thermometer to measure the core temperature
Rotating barbecue basket with flexible stainless-steel meshwork for comfortable turning and moving
Landmann 42235 Pantera Portable Gas Grill, Black
out of stock
as of September 16, 2023 11:35 am
Features
Porcelain coated cast iron cooking grates provide 264 Square inch of cooking area
Heavy duty powder coated tubular Steel Folding cart with vertical stand for easy storage
Two fixed side shelves with tool hooks
Removable grease cup for easy cleanup
Push button Piezo ignition
Landmann 3495GLA Smoky Mountain 34-Inch Vertical Gas Smoker
out of stock
as of September 16, 2023 11:35 am
Features
Heat saving easy access drawers with handle to access wood chip box and water pan with opening main chamber door
13,500 btu with fully adjustable heat control and front door temperature gauge
4 adjustable chrome plated cooking grates and meat hanger
Square, wide stance legs for stability, rotary igniter, cast brass burner for long life
10-year warranty
Landmann USA 3895GWLA Smoky Mountain Vertical Gas Smoker, 38-Inch, 26" Wide Chamber, Black
out of stock
as of September 16, 2023 11:35 am
Features
1576-square inch of cooking area to smoke your favorite meats, fowl and fish
Features heat saving easy access drawers with handle to access wood chip box and water pan without opening main chamber door
Fully adjustable heat control with front door temperature gauge. adjustable top chimney and side damper vents with plastic tab guards for optimum temperature control
Includes porcelain coated steel water pan and heavy duty Steel wood chip box with lid. Square, wide stance legs for stability. Rotary igniter, heavy duty Steel construction with easy assembly
Cast iron burner for long life. will not rust; 10-year
Landmann 470421 26" Barrel Pellet Grill
as of September 16, 2023 11:35 am
Features
Enhance your barbeque grill experience with the LANDMANN Barrel Pellet Grill, an easier to operate barbecue that produces flavorful results every time. This versatile grill, with a total cooking area of 710 square inches, allows you to barbecue racks of ribs, briskets, whole chickens and so much more. Enhance your cooking experience with the digital temperature control, which provides accurate readings of the temperate and give you precise control over the temperature that's needed
Color: Hammertone Brown
Material: Steel
Product Size: 43.5 x 30.9 x 43.7
Assembly Required: Yes