Primo grills & smokers offer a great ceramic solution
Primo is the only manufacturer that makes ceramic grills and smokers in the USA. These versatile cookers won't crack or break – even at temperatures up to 2300º – yet they conduct no heat. The result? Meat, poultry, fish, and vegetables are consistently cooked moist, and tender.
What are Primo grills? The Primo grill is a ceramic kamado grill that cooks wonderfully flavored food. Users of the Primo Kamado grill believe that its results are borne from the slow tenderizing process which leaves food both moist and delicious. Nothing quite compares to a Primo grill.
Current Deals on Primo Grills
$80.59
in stock
8 new from $80.59
1 used from $69.95
as of December 6, 2023 10:07 pm
$799.00
$1,349.35
in stock
6 new from $799.00
as of December 6, 2023 10:07 pm
$999.00
in stock
2 new from $999.00
as of December 6, 2023 10:07 pm
$1,279.00
in stock
4 new from $1,279.00
as of December 6, 2023 10:07 pm
Primo Grills Cook More than Just Meat
One of the key features of the Primo kamado grill is that is equally proficient in producing well-cooked meat and vegetables at the same time. You can cook your entire meal at the same time.
Plus, you'll get wonderful food that is delicious, tender, and moist. The innovative design of the Primo grill is what makes it so incredible. The ingenious shape of the Primo grill allows for superb levels of heat distribution. The ceramic walls of the Primo offer both high levels of heat retention and insulation.
Primo Grills Can Be Used as Smoker Grills
The versatile Primo grill can also be used as a smoker. When using the Primo smoker it is best at low temperatures that are kept constant for a long period of time. The ability to maintain even temperatures allows the Primo grill to produce smoked foods with plenty of scrumptious flavors.
Maintains Constant Temperatures
Another great feature of the Primo grill is that it lets you control how much airflow reaches the fuel in the grill's firebox. The more airflow that reaches the fuel, the higher the temperature will be. The ceramic material is what gives the grill the ability to keep a constant temperature.
The circular walls of the Primo grill work much like a kiln. The circular walls allow the heat to radiate evenly so that the food gets cooked through evenly. A great safety feature of the Primo grill is that the outside of the grill stays cool to the touch while your food is cooking. This is especially good when children are around.
Best-selling BBQ Smokers
Natural Wood Fuel
Natural grill wood chips such as those made from hickory, oak, cherry, maple, and mesquite hardwoods should be used in the Primo grill. Each type of wood imparts its own delicious flavor to cooked foods. Not only do natural wood charcoals burn evenly, but they help maintain the best cooking temperature for ceramic grill cooking. Another feature of natural wood is that it burns cleanly with practically no ash.
This ensures your Primo grill will need less cleaning than other grills. It is recommended to never use regular pressed and treated charcoal briquettes in a Primo grill. Lighter fluid is also unnecessary for starting your Primo grill.
Once you have tried cooking on a Primo ceramic grill, it is doubtful that you will try any other type of bbq grill. The robust flavor and tenderness achieved with the Primo is unmatched.
Primo Oval XL grill
Ceramic Cooking has been practiced in Asian countries for over 3,000 years. It remains a popular cooking method. Ceramic allows food to cook evenly with minimal moisture loss. Rice cookers and crock pots are well-known examples of exceptional results.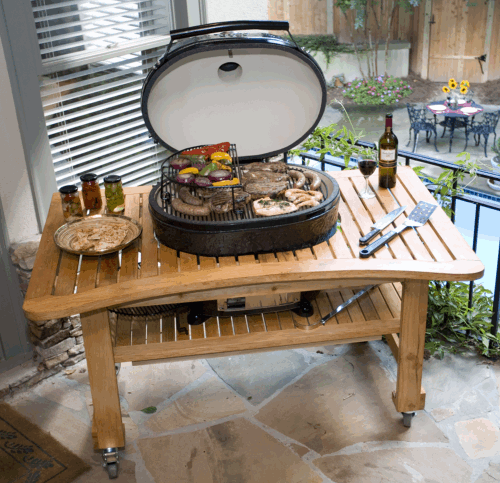 Based on an ancient design, The Primo Oval XL Grill and Smoker® have been updated and improved to deliver the most advanced and versatile cooker in today's marketplace.
Primo® combines centuries of proven cooking techniques with modern technology. Its advanced design includes a high-tech ceramic material that heats quickly and evenly.
It won't crack or break even at temperatures approaching 2300º degrees Fahrenheit and yet it conducts virtually no heat. This seals in heat and keeps air out, thus ensuring food is moist and tender.
This also slows the charcoal's burn making the Primo Grill and smoker cheaper to use than other grills and smokers.
This is the ultimate ceramic cooker. This Extra-Large Oval Primo XL Grill and Smoker®is the biggest ceramic cooker on the market today. Its oval design shape brings the cooking space that you need. You may use the optional firebox divider to perform "true indirect cooking" as well as performing small cooking sessions.
Primo Oval Junior grill
The Primo Oval Junior Grill is a smaller version of the ultimate outdoor ceramic cooker. This Junior Oval Grill is the same quality as its bigger cousin and will make your food taste just as good.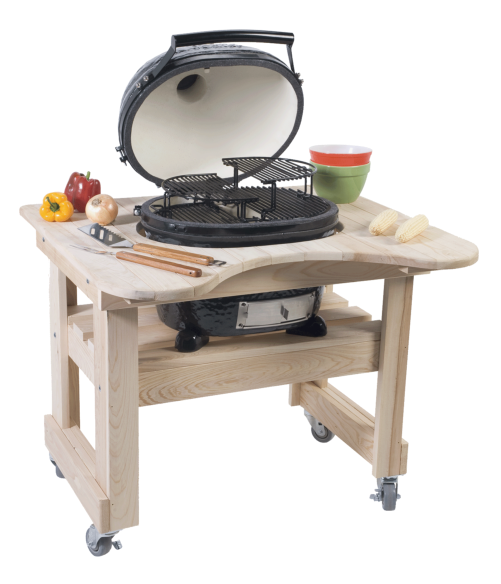 Its oval design provides the cooking space that you need and is the perfect solution for those with limited space.
You may choose to use the optional firebox divider to perform "true indirect cooking" as well as performing small cooking sessions.
For the avid outdoor cook, the Junior Size Primo Oval Grill is a must for those who love to entertain. With a possible 370 total square inches of cooking space, this grill allows you to cook a variety of foods simultaneously. In addition to the added cooking space, the Primo Oval offers a wide range of possible cooking setups. Proven and patented, the Oval is now recognized by the most influential food experts and celebrities.
The Primo Grill has an impressive 210 square inches of cooking surface with the potential to gain a total of 370 square inches of cooking surface with optional upper racks.
Ample 210 square inch cooking surface
Cast Iron slide top chimney
Adjustable 2 Porcelain cooking grids
Stainless steel bottom draft door
Easy lock hinge system
Thermometer
Ceramic feet
Control Cooking Temps from 180°F to over 700°F
Featuring Primo Certified Ceramic Technology
Great efficiencies
Level Control Cooking Racks (giving 2 heights) standard
Manageable weight
Slate Black Color (Porcelain Finish)
Primo Tested ~ Ready to cook in 10 minutes
Easy lift & new coil spring hinge mechanism
Limited lifetime warranty
Primo Kamado grill
The Primo Kamado grill has everything to satisfy the purist and anyone who enjoys the flavor of food cooked over a charcoal fire. The Primo Kamado is your path to enjoying the finest in outdoor cooking. Unlike other charcoal grills, your Primo Kamado can be up and cooking within minutes, without the hassles of using nasty lighter fluids. With natural lump charcoal and one of many simple non-toxic methods of lighting, you can be ready to cook in as little as 10 minutes.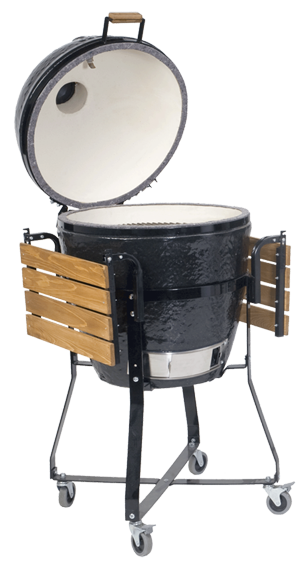 Add your favorite wood chips or chunks for a genuine wood smoke flavor. Set your vents to maintain your desired temperature. . . from low/slow to red-hot for searing. . . from roasting to baking…and relax while you get ready for the best eating yet. The Primo Kamado grill is a fine addition to any patio or garden.
260 sq. inch cooking area
Ceramic
Traditional design
Hands-free auto-lock
Stainless steel draft door
No lighter fluid needed
Always stays cool to the touch
Cradle and side tables not included
21.5L x 21.5W x 30H inches
Shop Primo Brand Grills
Primo 775 Oval Grill, Large
4 new from $1,279.00

as of December 6, 2023 10:07 pm
Features
Unique oval shape opens the door to diverse cooking options
SuperCeramic is protected by a lead-free and scratch-resistant glaze
Ceramic technology and porcelain-coated cooking grates ensure even heating across the entire grill surface
Primo has one of the highest sitting lids on the market
Proudly Made in the USA
Primo Grills and Smokers 773 All-in-One Kamado Round Grill with Cradle Shelves, Ash Tool and Lift
$1,349.35


$

799.00
in stock
6 new from $799.00

as of December 6, 2023 10:07 pm
Features
Made In The USA
95% Assembled
20 Year Warranty
Primo PGS-95-0360 Griddle, Extra Large, Black
8 new from $80.59
1 used from $69.95
Free shipping
as of December 6, 2023 10:07 pm
Features
Cast iron griddle adds cooking versatility to your primo grill
Use the smooth side to cook vegetables or breakfast
Grooved side is perfect for searing or toasting bread
Cast iron is naturally non-stick
Fits oval xl grills
Primo 774 Ceramic Charcoal Smoker Grill, Oval Junior
2 new from $999.00

as of December 6, 2023 10:07 pm
Features
Unique oval design for more flexible and versatile grilling and smoking
210 square inches of standard cooking surface; up to 360 square inches with rack extensions
Exterior features a premium-grade ceramic blend coated with a protective, lead-free, scratch-resistant porcelain glaze
Highest quality ceramic for increased efficiency and durability
Measures 24 by 22 by 16 inches; 20-year warranty for all ceramic parts; made in USA