Brinkmann makes a wide selection of quality grills at an affordable price. Found at Home Depot, Walmart, Target, and many other retail stores, Brinkmann offers a variety of grills that will fit comfortably into any budget. Because Brinkmann is a large, national company, if something does go wrong with your grill, replacement parts are easy to come by, giving you some peace of mind about the grill you are purchasing.
Brinkmann Grill Replacement Parts
Why choose a Brinkmann grill?
Brinkmann grills are used primarily by chefs and caterers to make food in outdoor settings. This leader in gas grill cooking also produces smokers, many styles of outdoor cookers, outdoor lighting, and many other lawn and garden type products.
Brinkmann grills stand for quality which is why so many people choose them for all their barbecue needs. No matter what your budget or needs Brinkman will have a grill or smoker for you.
Two of the more popular Brinkmann grills are the grill king deluxe and the elite pro. These barbeque cookers have many extra options to satisfy any type of meal you can think of, and have a name that is synonymous with quality and has a loyal group of users who use them in both the backyard as well as in competitions.
Plus they are affordable and easy to get replacement parts for. When you buy a Brinkmann grill you can be assured that you have purchased a top-brand unit that will provide years of service.
Brinkmann Gas Grills
Brinkmann offers a wide selection of gas grills, including grills with 4 burners, 5 burners, and their Pro Series for more heavy-duty grilling. Their wide selection ensures that you can find the perfect grill to meet all of your grilling needs. For instance, if you choose a grill with 4 burners, you then have the option of choosing the basic model, stainless steel, porcelain, or the heavy-duty model. They even have a Portable Tailgate 4 Burner Gas Grill for all of your outdoor and tailgating needs. The grill is collapsible for storage and transportation as well as completely portable, making it the perfect option for tailgating before the big game.
If 4 burners aren't enough, you can also check out Brinkmann's selection of 5 burner grills. Brinkmann's 5 Burner Gas Grill with Smoker has everything the 4 burner grill has, plus an extra rotisserie burner and smoker! There is also a warming rack and adjustable, chrome-plated cooking grates. You also have the ability to convert the grill from propane to natural gas with a kit, making it a great option for all of your grilling needs.
If 5 burners still aren't enough for you, then you can check out Brinkmann's selection of 6 burner grills, or the Pro Series for the more serious, heavy-duty griller.  For instance, the 6 Burner Heavy-Duty Gas Grill with Rotisserie is a grill that will suit all of even the most serious griller's needs. The grill has 6 burners, including a rotisserie burner and set, porcelain-coated cast-iron grates, slide-out bottom and grease cup for easy cleaning, large side tables for plates, and so much more.
Whatever grill you choose, just make sure you do the research to find the perfect grill for you. With all of Brinkmann's many grill options, you should be able to find a grill that meets all of your needs and your budget.
Brinkmann Smokers Come In Two Varieties
The first variety is the vertical smoker. These are fairly compact devices that are sure to not burn a hole in your pocket. These cooking products can use gas, wood, or charcoal depending on your needs all the while smoking up to 50 lbs. of meat. A water container is placed right below the food for the steaming process, to make sure the meat is surrounded by aromatic smoke at all times. These are very easy to use for your bbq grilling.

A second type of Brinkmann smoker is the horizontal variety which are generally used to prepare a large amount of food at once. These smokers are especially helpful for parties or other gatherings where many people will enjoy the feast.
They are larger than the vertical ones and hold quite a bit more meat. This may or may not be what you need, depending on how often you barbecue for many guests.
Brinkmann BBQ grills are synonymous with affordable quality
Brinkmann have a large selection to handle many different cooking needs so you know you will find the right grill. And since they are so popular, replacement parts and upgrades are readily available.
Whether you want gas, charcoal, or even electric Brinkmann will fit the bill. You will have your meat grilled to perfection in no time.
Great value Brinkmann BBQ Smokers
Brinkmann Smoke & Grill – A flexible BBQ at a great price point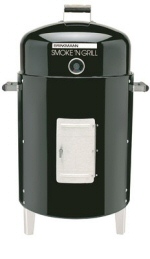 The Brinkmann Smoke & Grill is an all in one Smoker, Griller, Steamer and Roaster – the most versatile outdoor cooker ever made. Water smoking involves using the water supplied water bowl between the fire and the food, which produces a slow moist heat which flavours and moistens as it cooks. Transform into a hot smoker/roaster by removing the water bowl and use a conventional BBQ by moving the firebowl to the top. The ultimate gift for the man who has everything and of course it makes an ideal present when Summer is on its way.