Burgers get a bad rap thanks to fast food chains making them with cheapest ingredients they can find, but with decent ingredients, there's nothing unhealthy about them at all.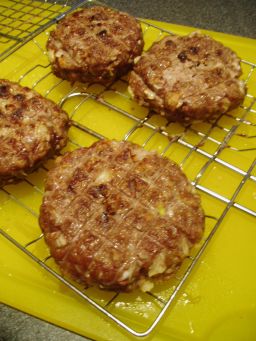 Want to know how to make great homemade hamburgers?
This simple barbecue hamburger recipe creates a burger that can form the basis of a very filling meal.
This makes 4 burgers, double or triple the quantities if need be.
Lastly, here's a great tip for making uniformly shaped hamburger patties.
Ingredients
1 pound (450g) of lean ground beef – the best quality you can get
1 medium onion
A large egg
4 slices of bread – cut the crusts off
4 tbsp Parmesan cheese
1 tsp salt
1 tsp black pepper
Method
Put the slices of bread and the onion in a food processor and mince it up, till it looks finely grated.
Put the onion and bread mixture in a suitable bowl with the beef and other ingredients, and using your hands mix it all until it binds and you can squish it through your fingers.
Then form the squishy mixture into 4 equal-sized patties.
When the time comes grill them for 5-7 minutes each side on a fairly hot grill. I put a batch in a hinged gridiron to cook – it's easier to turn them all over at once, and there's less risk of them breaking.
Serve them immediately.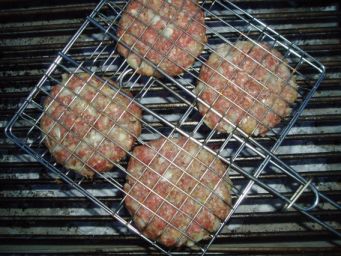 To serve
Put them in a soft white burger bun with some of the following:
A dollop of Mayonnaise
A dollop of tomato ketchup
A dollop of BBQ sauce
Lettuce and sliced tomato
Sliced gherkin
Pickled chilies
Slices of cheddar – mild or mature
Slices of smoked bacon
More on burgers
I was going to research burgers further and work out a few more recipes of my own – especially chicken burgers – I've only ever made hamburgers in the past.
But as I was researching I came upon this site which has a huge collection of the best burger recipes I've come across. It's a pretty awesome collection.