If you are reading this then you probably already agree with me that 2-burner gas grills are a great way to cook food.  I would go as far as to say that grilling gives you some of the best tasting food possible. If you live in a sunny climate, then an outdoor kitchen grill is a must-have. Whether you already have one and want to replace it, or if you are thinking about buying your first ever 2-burner gas grill, then we can help you make the right purchase.
Before Reading
The need for and benefits of 2-Burner Gas Grills
It's easy for me to convince people into why they need a burner gas grill! When the weather is hot, then grilling season has officially arrived. Who wouldn't want to cook up barbecued veggie skewers, delicious burgers and juicy ribs, right from the grill? Having a grill not only gives you the change to show off your grilling skills to friends and family, but they give you the chance to enjoy meat in a whole new way. The taste you get from grilling is far superior to using an oven to cook your food. But, what more do 2-burner gas grills offer? The real benefit is that they allow you to grill even if you have a small space to play with. They are small and compact, so if you have a small outdoor area to fit your grill into, then a 2-burner is a great option.
The Best 2-Burner Gas Grills; Our Comparison
So we've thought long and hard about how to compare all the 2-burner gas grills out there. We wanted to bring you a guide and list of our top picks that were based on solid research. So, we decided to test each grill out and cooked up a feast on each one! We've chosen our favorite, and also put together a top 10 list of all our favorites. We've made sure to include the pros and cons of each model, so you can make sure to choose a grill that has what you are looking for.
How we Picked & Tested: Uncovered
So we took on the difficult task of testing and picking out our favorite 2-burner gas grills. Aside from the delicious food we got to taste as we tried each grill out, it is actually quite a difficult task choosing between all the options. We found there were a lot of big brand name grills out there, as well as generic grills that seemed to come on the market like wildfire as soon as the weather turned warm. To test, not only did we grill food, but we also put each model through a variety of different tests. We looked into their preheat speed, temperature, time to assemble them as well as other features. We looked at the data and used this to decide on our top ten picks.
Why should you trust us?
Why you should trust us is a really good question that most people should be asking at this point. Well, we can honestly say we have been on a real journey, a quest maybe, to find the very best 2-burner grills. We took this very seriously. We tested each grill with real detail and vigor, to make sure we bring you the very best and most reliable results. We also recruited a team of people to help us. From beginner grillers to seasoned searers, we brought together people with differing levels of grilling experience to offer us their thoughts and feedback on each grill. So we are confident we have the most thoroughly tested and picked grills.
The Best 2-Burner Gas Grills, our hand-picked Top 10
This top ten list of the very best 2-burner gas grills is our hand-picked list. Remember, always think about the features and aspects of the grill that are important to you and look for them in our reviews. We've put together with general reviews that focus on every aspect of each grill, so you can look for what you really want.
Quick Tips For These Top Picks
First, remember your budget, it is easy to find a grill in all price ranges and even easier to get carried away thinking you need he highest price one, so have a budget and stick to it. Second, remember what you want from your grill and why you want to buy it, don't get caught up with features you don't need! Finally, always refer back to our guide for all the information you will need!
1. Editor's Choice: Char-Broil Classic 280
Char-Broil Classic 280 review
This 2-burner gas grill is consistently a great value for money. Wherever you look online everyone is raving about how cheap it is for all the features it has. It has great healing power, using propane gas, and gets to a high heat quickly. The lid is made well so that the grill keeps all the heat inside and also evenly distributes the warmth across the whole grill. Most 2-burners are compact, and the Char-Broil is no exception. It is small and also comes with wheels, which makes it easy to move around wherever you may want it.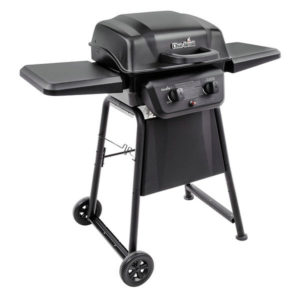 Pros
It distributes heat evenly and has a reliable ignition.
It is compact and easily moveable for small spaces, as well as being well-designed and sleek.
It has a good level of power and gets hot quickly.
Cons
This is a propane gas grill, so you can't use natural gas with this model.
As it is quite lightweight, it does seem a little flimsy at times.
Bottom Line
This is a great grill for barbecuing outdoors. It is small and perfect for small spaces. It is amazing value for money, as you get a grill that heats up well for a rock bottom price.  There are lots of great added features, like the 2 side shelves where you can store things for grilling, as well as some handy side hooks too. Although this option may seem a little flimsy, it has everything you need for good grilling in a tight spot.
2. Char-Broil Signature TRU-Infrared 325 2-Burner
Char-Broil Signature TRU-Infrared 325 2-Burner review
This grill comes with some interesting and impressive features. It has a TRU-Infrared cooking system, which uses infrared technology to cook as quickly as possible. It is better for the environment, as it uses significantly less gas, and it allows you to also better control the temperature more accurately. You also won't see any flare-ups on this grill, only well-cooked juicy food! It's a small grill, but it is built well and has lots of extra storage compartments that are really useful when grilling.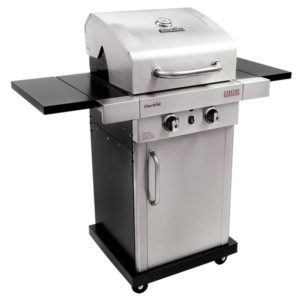 Pros
Great infrared cooking system.
Small and compact, with some added places to store utensils and other cooking accessories.
Cons
It did take us a while to assemble, it wasn't really easy.
The thermometer isn't in the best location, and can't reach the top temperature of the grill.
Bottom Line
This is a good grill that we really like, that is why it is our no.2 pick. It is good for the environment and doesn't use wasteful amounts of gas. It is small enough to fit on even the tiniest patio, yet will still cook your food well. It has some downsides and is definitely more of a budget purchase, but if you want a reliable grill for a few seasons only, then this is a good choice.
3. Weber 60010001 Genesis II
Weber 60010001 Genesis II review
This is a high-quality grill that you can use in small spaces. When you think of a 2-burner you may think you have to sacrifice on grill quality, but that is not true. This Weber is a high-end option that you can fit into tight spaces.  It has a grilling system with ignition, which means you can easily turn on the grill, and it also has its own heating system that replaces the burners. An interesting addition is the flavorer bars that catch any drippings and turn them into smoke, giving your food an extra smokey taste!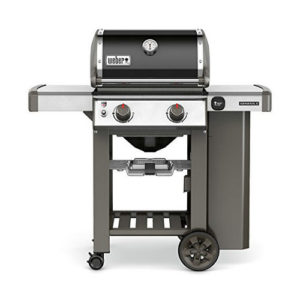 Pros
Includes a useful grease management system which stops the build-up of grease inside your grill
Good grilling and ignition system.
Features some great added extras, like the Bluetooth system.
Cons
It can't always reach really high temperatures.
It is quite tricky to put together and assemble.
Bottom Line
This is a really good option if you have a little more to spend. The grease-catching system reduces the risk of fire and also keeps your grill clean. The grill also has some great built-in storage, as well as the option to add some high-tech add-ons, like the Bluetooth system. There are some downsides, but overall the heating system is reliable and this is a nice advanced option.
4. Weber 48010001 Spirit II E-210
Weber 48010001 Spirit II E-210 review
This is one of Weber's best small grills. It features some great design ideas that make it a real space-saver, so it can fit into tiny places. These include things like the side table which can be collapsed down once you've finished grilling. It has a good level of heat distribution and includes a useful warranty. Like other Weber's it includes some of their great technology like the Gs4 grilling system, Flavorizer Bars, and Grease Management system. Overall, it is a really functional 2-burner gas grill that combines the quality of Weber grills with the need to be compact.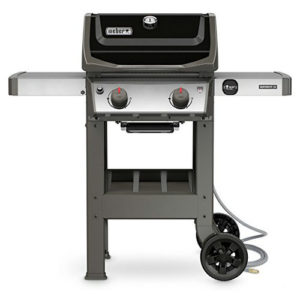 Pros
This grill has great movability, with wheels and lots of space-saving features.
It features the Weber grilling system.
Cons
It is quite an expensive choice for such a small burner, maybe a little overpriced.
Bottom Line
You get all the great features of a Weber with this grill. The grilling system is tried and tested, giving you delicious smokey food, as well as features that allow you to clean easily and cook with ease. The open design looks good and enables you enough room to cook and store all of your accessories. It may be a little overpriced, but is a good 2-burner option.
5. Char-Broil Classic 280 2-Burner
Char-Broil Classic 280 2-Burner review
Char-Broil is a well known and reliable grill brand. So it is no surprise that this grill performs well. The ignition system is great, as it means you can easily turn it on and adjust the flame with a simple dial. It also has good size side shelves, with plenty of room to store your equipment and food. The burners also cook well, all our food came out cooked evenly and it defiantly distributes the heat evenly across the grill. It's a good choice for keeping outdoors, as it is sturdy and will withstand the elements in the winter months.
Pros
This grill has a Piezo ignition system which means you don't need any matches.
Its made well with a porcelain lid, good size wheels and additional side shelves which make cooking and fitting into small spaces much easier.
Cons
You won't find a shelf to mount the propane tank, so when you move the grill you have to move the tank separately, which is a bit annoying.
Bottom Line
This is a solid grill for a good price. It is a simple grill, it doesn't come with loads of advanced or added features, but it does what you need and is good value. It is easy to cook with this grill, and you get some great food to serve up.
6. Weber 44030001 Spirit II E-210
Weber 44030001 Spirit II E-210 review
It's nice to see a grill that comes in a variety of colors, so if matching your grill to your outdoor furniture is something you'd like then you can do just that with this Weber. It comes in black, white, red and blue, which is a nice added extra. For a small grill, it still has 360 square inches of space to grill on, which will fit about twelve burgers. It features the GS4 grilling system which allows you to have 2 grilling zones and gives you much more flexibility with what you cook.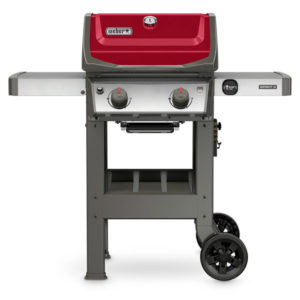 Pros
Good size grill area and reliable GS4 cooking system.
Ten-year warranty agreement.
The option to choose which color suits you best!
Cons
Sometimes the cooking is a little uneven and needs you to move the food around to get even grilling.
Bottom Line
This grill gives you good performance and reliability, as well as good looks. It is a step ahead of the other grills we've looked at in terms of design and style, which is nice to see from a grill. The GS4 system also means that the grilling is good and consistent with this model, it is definitely a serious contender.
7. Royal Gourmet Portable 2-burner
Royal Gourmet Portable 2-burner review
This option is different from all the other grills we've recommended so far because it really is portable and tiny. It is a gas griddle, so it lacks the stand and full body of your standard grill, but it is perfect if you are looking for something small for a table or to take with you on a camping holiday. And it does quite a good job given its size! The surface is non-stick, made of porcelain-enameled steel, which is quite big in size as well, so you can cook quite a bit on here in one go.
Pros
Good size and nice non-stick surface for cooking.
Cons
This grill does have a little bit of a wobble to allow grease to drain, this can be quite annoying when cooking.
Bottom Line
This is as portable and as small as you will get from a 2-burner gas grill. If you really are looking for something you can carry around and take with you, then this is a good option. If you want a more sturdy option, then you should consider something else.
8. Char-Broil Performance 300 2-Burner Cabinet
Char-Broil Performance 300 2-Burner Cabinet review
This is a no-frills grill that will cook good food and not do much else. It is easy to use for novices and is simple to get out of the box and start using right away. You won't see many fancy features like those we've talked about in other grills, but it does the job. The burner heats up well and can be easily adjusted. There is also a good size storage unit, as well as wheels that mean it can be mobile and moved to fit in a small space.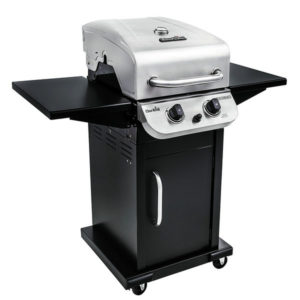 Pros
Unlike others, we've tested this is easy to put together and constructed well.
It heats up quickly and always keeps it temperature consistent.
Good size cooking area.
Cons
This grill can get a little too hot even when you try it on the lowest setting.
Bottom Line
This is a cheap grill, that is great for beginners or those on a budget. It is easy to assemble and use, whilst still being compact and sleek. Although it doesn't come with lots of extras it includes the basics you need, like folding side tables and a storage cabinet for the gas. This is a nice safe bet.
9. Weber 65010001 Genesis II E-210
Weber 65010001 Genesis II E-210 review
Like some of the other Webers, we've reviewed this model includes the GS4 grilling system, as well as the great flavourer bars and the grease management system. These are all the great features we expect of a Weber. This grill has 380 square inches of space to grill on, as well as a handy overhead warming rack, which is a nice extra. As well as the warming rack, it also has the side prep spaces and hanging storage, so there is lots of extra space for you to use whilst grilling.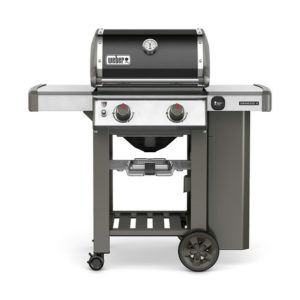 Pros
It has infinity ignition, which makes using the burners easy.
This model has a surprising amount of extra space for you to use whilst grilling.
Cons
Like other Webers, you do end up paying a bit of a price premium.
Bottom Line
If you want a Weber that will perform reliably for you, then this is one to consider. It does cost a little more than other brands and is less good value for money, but it includes all the high-tech features you could want. What makes it really stand out is the extra space it boasts, so if you like having a little more room, you should consider this one.
10. Royal Gourmet Portable 2-burner Pd1201
Royal Gourmet Portable 2-burner Pd1201 review
Our last pick is another great portable burner from Royal Gourmet. Royal Gourmet really are the experts in grills that you can take anywhere. It has a steel top, which although it isn't non-stick, is still easy to clean. Like the other Royal Gourmet, we featured this also has the Piezo ignition system, making turning it on and adjusting easy. The burners can also be controlled separately, which means you can easily cook different food at the same time – a great feature that you really don't expect from a grill this size!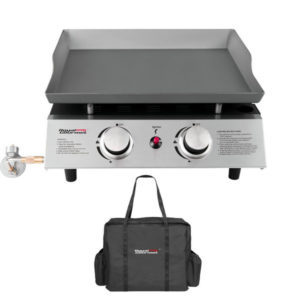 Pros
2 burners which you can adjust separately.
Cons
If you are looking for a permanent grill for your backyard, then this won't be the sturdy option you are looking for.
Bottom Line
If you are done with a heavy backyard grill, then this portable option is a good shout if you are looking for something you can use at home and take out and about on trips too. It has a 12000 BTU output, as well as a large cooking area, so it won't disappoint.
2-Burner Gas Grills: Accessories
Once you've settled on your 2-burner gas grill and have been grilling with it for a while, then you might want to think about how some accessories could up your grilling game.
For cleaning – you can invest in some grill-specific sponges, as well as grate cleaner, grill cover and various types of grill brushes, which will help your grill stay sparkling for longer.
For cooking – there are lots of accessories you can buy to help you cook. Things like a pizza stone or a poultry roaster, as well as an instant-read thermometer, are all great additions to help add to your grilling repertoire.
Brief Summary
There are lots of grills on the market, but these are our top picks and some of the best out there on the market right now! From sturdier backyard grills to the portable options from Royal Gourmet, there should be something for everyone on this list.
If I were you, I would choose the Weber 48010001 Spirit II E-210, and here are three reasons why
Although it isn't our top pick, I really like this Weber, as it has all the great cooking features you need.
It is really easy to move around with the handy wheels.
It has some great space-saving features which make it really compact.
Short buying guide
Our top tips for buying a 2-burner gas grill
You should always remember, that although these are my top picks and favorite 2-burner gas grills, you should always remember your own considerations. Buying a grill is all about finding the right one to match your needs, so you need to know what you want from the beginning! Some other things to think about include:
How many people do you want to grill for? This will affect how big a grill you need.
How often are you grilling? Where do you want to be able to grill?
How much money do you have or want to spend?
Further reading time: Read our Best Gas Grill Ultimate Guide
If this has been a helpful guide on how to buy a 2-burner gas grill, then you may have the test for grilling by now! If so, you should have a look at one of our other guides – Best Gas Grill Ultimate guide, where you will all our tips and information on every grill on the market.
Conclusion
Now you should be set with all the information you need on the best 2-burner gas grills. We've trawled through numerous grills testing out there features, and these are our absolute favorites. Now all that's left to do is to get out in the sun and grill!