Now to illustrate two well known regional styles we'll compare a traditional Kansas City BBQ Sauce with a St. Louis Barbecue Sauce recipe. This variation of the traditional Kansas City BBQ Sauce is a thick sweet sauce with a touch of heat to give it a little kick. Kansas City BBQ Sauce is one of the best BBQ sauce recipes we've tasted tried – rich, sweet, tangy, with a kick of cayenne.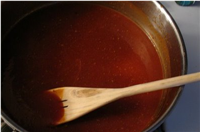 It's what the rest of the world imagines when they think of "American BBQ sauce".
Ingredients
1 1/4 cup tomato ketchup
1/4 cup cider vinegar
1/4 cup water
1/4 olive oil
1/4 cup molasses sugar
3 tbsp paprika
3 tsp cayenne
2 cloves garlic, peeled and crushed
Heat the oil in a suitable pan and saute the garlic until it browns.
Add the vinegar, ketchup, and water, then the sugar, paprika, cayenne.
Combine all ingredients in a saucepan over medium heat.
Stir constantly for 5 minutes. Reduce heat to low and simmer for 20 minutes, stirring occasionally.
The sauce should be thick. Allow to cool. Store in an airtight container. Refrigerate.
Variations
If you feel like experimenting whilst making this homemade BBQ sauce try one or more of the following:
Swap the cider vinegar for balsamic vinegar – it's sweet and rich – which is what this sauce should be anyway.
Try a lug or two of Worcestershire sauce.
A lug or two of bourbon – not too much.
Add more or less cayenne pepper.
If you want a smokey taste but don't have a smoker, get hold of some hickory liquid smoke and add a couple of teaspoons.
It might be too garlicky for some – if so try one clove instead.
Try honey or maple syrup instead of molasses sugar.