Mention barbecue to anyone north of Texas and the first thing that comes to mind is BBQ ribs or its more formal cousin barbecue ribs. For folks that love their Q, there is just no substitute for that smoky and rich barbecue flavor of a good rack of ribs cooked "low and slow."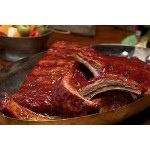 Texas on its own has four variations derived from the various groups of settlers who arrived in previous centuries. The East Texas style uses cuts such as pork shoulder or ribs, slow-smoked over hickory wood. Meat is served with a beautiful, thick, sweet tomato sauce.
Central Texas BBQ is influenced by the Central European and German settlers who arrived in the 19th century bringing their tradition of smoking food. Leftover cuts of pork and beef are smoked, with high heat, using oak and pecan wood – served without a sauce, but with soda crackers, pickles, and onions.
West Texas barbecue, sometimes also called "cowboy style", uses a more direct heat method than other styles. The main wood used is mesquite, and beef, goat and mutton are cooked.
The border area and southern Texas-style is heavily influenced by Mexican tastes. The area was the birthplace of the Texas ranching tradition, and the Mexican farmworkers were partially paid for their work with cuts of leftover meat.
Texas BBQ Recipes
Texas BBQ Pitmasters Sauce
Ingredients
1 Medium onion — chopped
1 Clove garlic — minced
2 tb Butter/margarine
1/2c Ketchup
1/4c Water
2 tb Vinegar
1 tb Light brown sugar
1 t Prepared mustard
1/2 ts Hot pepper sauce, (opt)
1 Lemon or orange, (opt) sliced
Salt and pepper to taste
Preparation
Cook the onion and garlic in butter in a medium saucepan until tender. Add ketchup, water, vinegar, brown sugar, mustard, salt, pepper and hot pepper sauce. Bring to a boil. Remove from the heat and let stand for the flavors to mingle.
At this point, a sliced lemon or orange can be added, or a bit of the juice of either.
With this recipe, true Texans usually add their own SECRET INGREDIENTS which can include beer, wine, bourbon, bay leaves, chili powder, tomatoes, vegetable oil or fat.
Texas Spicy Mild Barbecue Sauce
Ingredients
1 c Ketchup
12 oz Tomato paste
1/4 c Lime juice
1 ts Veg oil
1 1/2 c Onion; chopped
2 Clove Garlic; fine chop
12 oz Beer
1/2 c Brown sugar; firm packed
2 tsp Red chiles; to taste
1 tsp Worcestershire sauce
2 Jalapeno; seeded and chopped
Preparation
Heat all ingredients to boiling in a 2-quart pan, reduce heat the heat to low and cover.
Simmer for around 5 to 10 minutes, stirring the BBQ sauce once or twice.
Makes 5 cups sauce.
Franks Best Barbecue Sauce
When it comes to BBQ sauce, Frank knows a thing or two!
Ingredients
4 to 5 lbs. ribs, steak or chicken
3 c. water
1 c. red wine vinegar
1 1/2 c. soy sauce
1 c. brown sugar
3 tbsp. garlic, chopped
6 green onions, chopped
3 tbsp. sesame oil
2 to 3 tbsp. minced fresh ginger
1 to 2 tbsp. honey
2 tsp. Tabasco sauce
Method
Combine all the ingredients in a large bowl.  Stir well.  Arrange ribs, steak or chicken in a shallow glass or ceramic pan.
Do not use a metallic pan.  Pour the marinade over the meat.
Cover and refrigerate 24 to 48 hours.
Lift the meat from the marinade and place on a hot grill.  Use marinade to baste the meat while it is cooking.
Bourbon Whiskey BBQ Sauce
Ingredients
1/2 onion, minced
4 cloves garlic, minced
3/4 cup bourbon whiskey
1/2 teaspoon ground black pepper
1/2 tablespoon salt
2 cups ketchup
1/4 cup tomato paste
1/3 cup cider vinegar
2 tablespoons liquid smoke flavoring
1/4 cup Worcestershire sauce
1/2 cup packed brown sugar
1/3 teaspoon hot pepper sauce, or to taste
Preparation
In a large skillet over medium heat, combine the onion, garlic, and whiskey. Simmer for 10 minutes, or until onion is translucent.
Mix in the ground black pepper, salt, ketchup, tomato paste, vinegar, liquid smoke, Worcestershire sauce, brown sugar, and hot pepper sauce.
Bring to a boil. Reduce heat to medium-low, and simmer for 20 minutes. Run sauce through a strainer if you prefer a smooth sauce.
Big Dino Bones Barbecue Sauce
Ingredients
4 32oz. bottles store-bought ketchup
1 lb. blackstrap molasses
1 cup blackberry jelly
2 cups vinegar
3 tbs. ground red pepper
5 fresh habs (whole)
2 white onions (chopped)
2 med. bell peppers (chopped)
cloves garlic (chopped)
1 lb. light brown sugar
1 cup pickling spice IMPORTANT
1 white cotton baby's sock (preferably unused)
2 tsp. celery salt
Preparation
Put the ketchup and vinegar on medium-low heat until good and hot, then slowly add molasses, brown sugar and jelly, stirring all the time until they liquefy with the hot mixture.
Add chopped onions, peppers, garlic and spices. Put pickling spice into baby's sock and tie sock closed at top making spice pouch.
Add pouch to the mixture, holding under surface with a wooden spoon until saturated with the hot mixture. Allow mixture to SLOWLY boil or "burble."
Keep stirring off the bottom to prevent sticking. (From time to time I like to "mop" the bottom of the pot with the spice pouch to release goodies in pouch and clean bottom at the same time.
Allow to "burble" for about an hour and a half, until fresh peppers are soft. Don't leave out the pickling spice from this stuff. It's the key to giving this sauce its own distinctive flavor.
It's a pretty sweet sauce, but the habs and ground red give it a "Sneaky Pete" quality that slips up behind the sweet and grabs your attention.