Weber's Go-Anywhere gas grill adds convenience to the fun of camping and tailgating. This compact unit has a surprisingly generous grilling area–large enough to fit four medium steaks. The push-button ignition system makes lighting the fire easier than ever, and the patented heat-distributing Flavorizer bar ensures that your food cooks evenly and efficiently every time. You can lock the lid into place with the pivoting legs and carry this lightweight grill around in one hand. Built-in lid hangers allow you to rest the lid on the side of the grill to create an effective barrier against the wind. The triple-nickel-coated steel grate is easy to clean, and the porcelain-enameled steel lid and cooking box are built to last.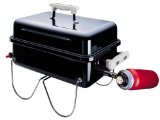 I have to admit, I was dubious to try out the Weber 1520 Propane Gas Go-Anywhere Grill. As the name implies, you can practically "go anywhere" with this portable grill, and the last thing I want is to be stuck in the middle of the beach or a campsite having to serve burnt food to my family. I wanted to be sure that I was getting the right value for my money, and in looking at the price tag, there were certainly other brands that were a lot more fancy and expensive than the Weber. After much prodding from my husband, I decided to give it a try.
The Details
The Weber Go-Anywhere portable grill has a huge area for grilling, and this would be ideal to make sure that you are able to cook several servings at the same time. Although the push-button system was easy and convenient to use, this was not the ultimate selling point for this grill. It was the Flavorizer that really sealed the deal for me! Cooks evenly and efficiently, you do not have to worry about burnt parts on your steak or burgers. And the best part? It locks in the flavor, letting you enjoy meals with your family and guests!
The Weber Gas Go-Anywhere propane gas grill comes with an easy-to-use push-button ignition system
Comes with porcelain-enameled flavorizer bars
Pivoting legs lock the lid in place for add safety
This grill offers 160-square-inches of cooking surface on the triple nickel-plated cooking grate
The porcelain-enameled coating prevents rust and fading
The Verdict
Quick to heat up and easy to clean, the Weber Go-Anywhere will be one of the best cooking accessories to add to your camping trip. The drip pan helps contain the grilling juices, which you know can be quite a pain to clean up after. All you need to do is heat it up for a couple of minutes and you are sure to get a consistent fire depending on how hot you need the grill to be. I have never really used any other grill after this. A solid grill with excellent quality!