Bradley BTIS1 Original Fully Automatic 4-Rack Outdoor Food Smoker
This smoker features a unique smoke without a fire system that will burn up to 8 hours without needing to be refueled. Whether it is hot smoke, cold smoke, slow cook or slow roast you want, this smoker will deliver. With an average consumer review of 4.2 out of 5 stars, the Bradley Original Smoker is hard to beat. For those looking for an electric smoker that is pretty close to set and forget this would be a good choice. Click here to check it out!
Bradley BTIS1 Original Smoker Features and Specifications
2,288 cubic inch interior with 4 cooking racks
Completely automatic
125-watt smoking element with a 500-watt cooking element, unit heats up to 280 degrees F
Original system that uses fire-free smoke featuring wood flavored bisquettes that will burn for approximately 20 minutes
Smoker will run for up to 8 hours without the need to refuel
comes with Drip Bowl and Tray
Measures 14.5 x 17 x 31 inches
Comes with a 1-year warranty
Shipping Weight: 49 pounds
Why we Recommended The Bradley Original Smoker
Minimal effort and Superior results. Fill it up with bisquettes and it will run for about eight hours. This makes the smoking process very hands free. Just keep an eye on the water level and your good to go.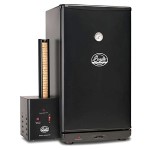 The Bradley Smoker also offers two smoking options. Hot for smoking meats and fish. And Cold for salt curing ham, bacon and some fish.
Another key advantage to the Bradley BTIS1 Original Smoker
is that the smoke produced is cleaner than most smokers. Because the bisquettes only burn for 20 minutes and then are automatically removed from the burner the resins, acids and high-temperature gasses are eliminated. This ensures that your smoked food has no nasty aftertastes.
Any Complaints?
Most consumers seem pretty satisfied with the Bradley BTIS1 Smoker. One item of concern that came up a few times was the need to use Bradley brand Bisquettes. Another issue a few people had was that they felt it was slow to heat up. People also mentioned that the product did not work well in cold weather.
What Others are Saying
This electric smoker is very popular with consumers. Some comments are:
"Love it, best smoker yet!"
"Everything I expected"
"Idiot proof smoking"
"best home smoker for the money, hands down"
" a dream to operate"
Where to buy?
The cheapest place online to buy the Bradley Original Smoker according to our research is Amazon.com We could not find a better price even from the manufacturer. Plus as a bonus Amazon includes free shipping.
Click here to view on Amazon.
So if you are in the market for an electric Smoker, that is easy to operate and requires minimal attending to we would highly recommend this product. Only if you live in a very cold climate or plan on using your Bradley Original Smoker in the winter would we not recommend it based on customer feedback.