Masterbuilt 20070910 30-Inch Electric Smokehouse Smoker, Black
The Masterbuilt 30 Inch Smoker is a fantastic smoker that is easy to use, easy to clean and super convenient thanks to the industry-first remote control. This meat smoker comes with a 4.5-star rating over at Amazon. Cost-effective and super easy to use, this Masterbuilt Electric Smoker is great for both beginners and experienced meat smokers alike. If you are in the market for a low-cost quality meat smoker with the convenience of the set and forget then this product might be for you.

Click here to check it out!
This electric smoker comes with 4 chrome racks, side wood chip loader with rear-mounted grease pan and removable drip pan. A unique feature that we really like is the large viewing window on the front of the smoker and internal light. This makes for easy viewing of your smoking meat or food without having to open the door thereby keeping the heat and smoke in.
This model comes with the usual Masterbuilt Smokehouse features including a fully insulated powder-coated body with 4 racks for all your favorite meats. An innovative side loader for your wood chips allows you to maintain constant temperature but still ad wood as needed. Where this model really shines though is the digital control unit. All you do is set your temperature and time and you are done! And one of the main advantages of electric over charcoal or propane is that it is easy to maintain your temperature with digital control.
Unlimited flavor options
The removable water pan allows you to add vinegar or juice or any liquid to add moisture and flavor to your food. Plus the wood tray design allows for the use of chips or pellets.
Masterbuilt Electric Smokehouse Smoker Features and Specifications
Masterbuilt electric smoker comes with a large built-in viewing window, plus internal light
4 chrome-coated smoking racks
Built-in meat probe
Digital remote control that keeps track of temperature and time
Convenient side wood chip loader with rear-mounted grease pan and removable drip pan
Measures 18.5 x 18.3 x 33.5 inches
Shipping weight 58 pounds
Why we Recommend the Masterbuilt 30 Inch Electric Smokehouse Smoker
We specifically recommend this meat smoker because of a few outstanding features. The Masterbuilt Electric Smokehouse Smoker heats up fast and is well insulated. Other units on the market can take a lot longer to heat up and regain temperature if the door is opened.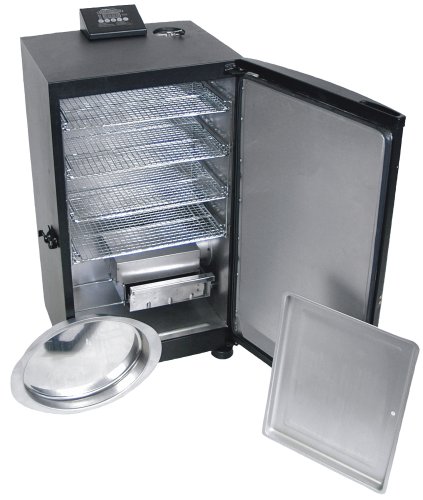 The built-in meat probe is another great addition to this smokehouse.
But we think the remote control that comes with this unit is really what makes it special and consumers online that we researched seemed to agree. This feature makes this Masterbuilt Smoker perfect for anyone that does a lot of entertaining or multitasking. You could literally be in your kitchen preparing other food or talking to your guests while using your remote to monitor your cooking time and temperature or make adjustments if necessary!
Any Complaints?
Some consumers seemed confused about the placement of the wheels during assembly. It appears that they go on the back and you would tilt the unit back to wheel it around. Some users mentioned that the Masterbuilt Smoker has to be slightly tilted back to avoid having the grease miss the drip pan. This is easily accomplished with the adjustable wheels or by placing a block of wood under the front of the unit. Another issue that people had a concern with was the window and light getting clouded up with grease and soot from the smoking process. This is not an issue if you clean the unit properly after each use.
Pros:
Holds heat very well, even in colder climates due to the 100% insulation.
Much cleaner and easier to use than a charcoal smoker.
Sideloading door allows for adding chips or pellets during smoking without losing heat or smoke from opening the main door.
Digital control allows for set and forgets meat smoking.
Cons:
A short 6-foot cord means you have to set it up close to an available outlet. Masterbuilt does not recommend using an extension cord.
A lot of complaints about the element not working overtime and wiring issues have also been reported.
No cooking or recipe instructions come with the unit although it is quite easy to find this information online.
This model doesn't come with a cover, although Amazon sells one for $25.
Not suitable for cold smoking as the element used for the wood chips generates too much heat. However, Masterbuilt does make a cold smoking adapter kit that fits on all of their electric side loading smokers. Click here to check it out.
What Others are Saying
Some comments from reviewers online.
"Would recommend to anyone"
"Finally the options you need"
"Lots of Fun"
"Very easy to use, great Smoker for the beginner"
"Easy to use and excellent food!"
Where to Buy?
The best deal that we could find was the current deal on Amazon. If you order the Masterbuilt Electric Smokehouse Smoker with Window and Remote you will get Free shipping and the cheapest price around.
Click here to view on Amazon.
If you are looking for a quality-built smoker with solid design and fun functionality then we highly recommend The Masterbuilt 30-Inch Electric Smokehouse Smoker with Window and Remote Control.