Camping out can be quite a task for both first-time and veteran campers. So it's a good thing that portable campfires like the Camp Fire are now widely accessible in the market. These devices are particularly handy during the dry months when most states ban campfires.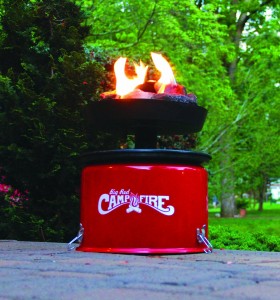 Portable campfires are also great for use in recreational vehicle (RV) parks and even on the patio. These products are likewise safe for use and come with numerous security features.
Click Here to read customer reviews…
Features of the Device
The Camco 58035 "Big Red Campfire" Propane Campfire is an example of a high-quality yet affordable campfire.  With a price tag of around $150, this device won't leave a hole in your pocket. It features a full, 9.5-inch diameter ring burner that helps create the natural look and ambiance of campfires.
It has a 10-foot propane hose that works well with standard liquefied propane gas cylinders and a 13.25-inch fire tray diameter. There's a self-storing lid that also serves as a base to the campfire.
Praise for the Campfire
Most of the people who have bought this campfire praise the device for its ability to easily create a flame.  It can produce flame as low as 6 inches when set on its lowest level, and as high as two feet on a high setting.  The flame it makes is enough to cook food like hotdog, marshmallow, and barbeque, but won't be hot enough to keep bodies warm on a cold night.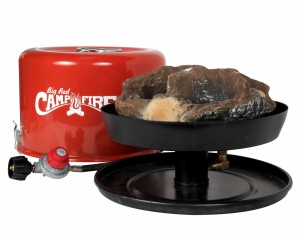 Being small and lightweight makes it ideal for use in campgrounds where open wood burning is typically not allowed. Safety is not compromised at all since it comes with security features such as an elevated fire tray and a base that is heat resistant.  Because it weighs a mere 21.2 pounds, this device can be easily transported from one place to another. The secure latches combined with the sturdy lid make this campfire safe and convenient to move around.
The device makes use of the standard LP gas. A gas regulator is also integrated into it. Using the device is pretty easy as well. People who have used it say they are glad they don't have to carry or buy wood anymore for creating a campfire. For added height, the base can be placed on top of the lid and make it easier for users to cook food over the flame.
Drawbacks of the Campfire
The campfire has its weaknesses, however.  For one, it won't emit enough heat to warm up five to 10 people on a cold night. Many of those who have tried it say that they had to get real close to the device just to feel the heat from the flame. Breeze can also easily affect the flame produced by the campfire, thus this may not be best for use during windy nights.  Finally, the campfire produces a hissing sound when put on a high setting, which could be a distraction to most users.
Despite its limitations, the Camco 58035 "Big Red Campfire" Propane Campfire is an ideal addition to anyone's camping equipment. It puts out a good flame, aside from being lightweight, portable, and cheap.
Portable Propane Gas Fire Pit Deals
$199.99
in stock
as of September 27, 2023 2:22 am
$284.00
in stock
as of September 27, 2023 2:22 am
out of stock
as of September 27, 2023 2:22 am