This chicken satay recipe is based on a more straight forward version, with chicken pieces threaded on to bamboo skewers, grilled over charcoal or gas, and served with a peanut sauce.
Satay is very popular throughout South East Asia; there are numerous variations, made from chicken, pork, beef, rabbit, snake, goat, offal and anything else that moves!
This dish from Thailand requires wood skewers, chicken thighs, and peanut sauce. Cut the chicken thighs, and put the pieces on the grill skewers. Rotate the skewers frequently, making sure the meat cooks through (but not too long!). Pair with peanut sauce for a dish with an Asian twist.
This recipe only makes enough to give four people a reasonable portion, just double the quantities of everything if need be.
Try it with pork – or snake if you want something more out of the ordinary!
Ingredients for Chicken Satay
For the Chicken
1 1/2lb chicken thigh fillets, either whole or cut into bite-size pieces.
1 clove garlic, crushed
2 tsp fresh ginger, finely grated
3 tsp Fish Sauce
Satay Sauce
2 tsp peanut oil
4 shallots, finely chopped
4 garlic cloves, crushed
2 tsp fresh ginger, finely grated
2 small red chilies e.g. bird's eye chilies, seeded and finely chopped
1/2 cup crunchy peanut butter
3/4 cup coconut milk
1 1/2 tbs Fish Sauce
2 tsp light soy sauce
2 tsp soft brown sugar
juice of 2 limes
Method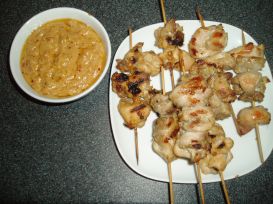 For the chicken marinade
Mix up the garlic, ginger and fish sauce in a bowl and thoroughly coat the chicken with it – work it in with your fingers. Leave it to marinate for an hour or two.
For the satay sauce
Heat the oil in a pan, add the shallots, ginger, chili, and garlic. Stir for 5 minutes until the shallots turn golden.
Turn down the heat and stir in the rest of the ingredients. Let it simmer for 10 minutes until it thickens slightly. Keep it warm until the chicken has been barbecued.
Lastly, thread 3 bite-sized pieces (or a whole thigh) on to each bamboo skewer (soak the skewers in water for an hour first). Then grill the chicken for 10 – 15 minutes until it is cooked.
Serve with the satay sauce used as either a mopping sauce, dipping sauce, or just pour it over the top of everything.