Masterbuilt M7P 7-in1 Smoker Reviews
Masterbuilt offers a wide variety of smoker and grilling products and accessories for camping, picnics, or any outdoor cooking. Among these many products, Masterbuilt gives consumers a choice of both electric or propane smokers, and in some cases, such as the M7P model Seven-in-One Smoker Grill gives consumers a choice of either propane or charcoal for smoking or grilling. The 7-in-1 also offers a Pan and Basket for deep frying, boiling, or steaming options. The Masterbuilt M7P Smoker Grill makes outdoor cooking versatile and simple.
Overall Rating Based on 14 User Reviews:
4 Stars for an "Excellent" Rating.
User Reviewed Pros:
Easy to assemble, parts plainly labeled
Handles remain cool through hours of cooking
Smoker works very well with no smoke leakage
Great value for the price
Two-level design easier to use
User Reviewed Cons:
Some users say that the unit burns too hot for slow smoking temperatures under 200 degrees
The wind blows out the burner when not using charcoal or wood.
Not enough room for charcoal smoking
Masterbuilt M7P 7-in-1 Smoker:  What the Reviews Say…
Masterbuilt is well-known for manufacturing quality outdoor cooking products. The M7P 7-in-1 Smoker Grill brings out superior flavor using a variety of seven different cooking techniques. It also includes heat-resistant handles and a hands-free lid holder. Fourteen online reviews at Amazon.com recommended an additional purchase of a 20-inch smoker cover to prolong your smoker grill's life.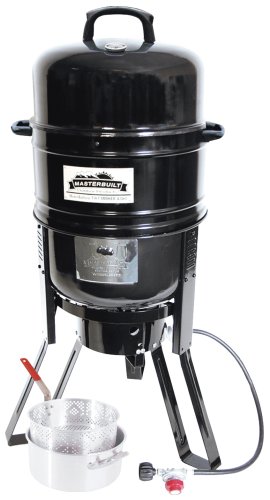 Most Amazon customers thought the seven-in-one was the Best Smoker Grill available for a very reasonable price. Only two reviews reported the M7P 7-in-1 unit to be ineffective when using charcoal at low-temperature settings. The Owner's Manual does not offer instructions for temperatures under 200 degrees.
Most of the users that reviewed the M7P Smoker Grill especially appreciated the versatility of cooking with charcoal or propane gas, and even if you cook with charcoal, you have the option to start the charcoal with gas. The 10-quart aluminum pan and basket that is included with the Smoker/Grill is quality improvement. Use it to create a seafood boil, or for cooking a variety of side dishes.
Users enjoy the flavor the Smoker Grill brings out in the food prepared on the cast-iron burner. The two-level design is preferred over the single lower chamber units offered by Masterbuilt's competitors.
Most reviewers agreed that the M7P 7-in-1 Smoker/Grill was:
Easy to use, great value
Gets ultimate flavor out of the food
Versatile uses with either charcoal or propane gas
Recommend additional purchase of a grill cover to protect from weather damage
In some of the Amazon reviews, issues were addressed and recommendations made based on their own experience and use of the M7P model. The instructions do not clearly state the importance of installing the legs in a specific way. It is important to place one leg in the back, two in front. The propane hose should be facing right or left, so it will reach around to the propane source. Other reviews addressed a problem with wind that might blow out the gas burner. These reviews recommend continuous monitoring when smoking with propane gas.
The Masterbuilt M7P 7-in-1 provides simple, easy to use alternatives for outdoor cooking. Reviews claim that the small smoker grill when using either charcoal or propane gas is a handy outdoor cooking unit. Users of the M7P enjoyed the smoker grill on camping trips, picnics, or a home-cooked meal in the backyard. The M7P 7-in-1 can be used as a wet or dry smoker. Add juice, vinegar, or other liquid for more flavor, with either charcoal or propane use