Made by Myron Mixon, the 47101 Pitmaster Q3 is a professional grill and smoker that is suitable both for residential and for restaurant use. Given its reduced dimensions coupled with the high grilling capacity, this pellet grill and smoker can be easily installed in the kitchen of a medium-sized restaurant or in your back yard.
Designed both for experienced chefs and for occasional cooks who want to enjoy a flavored steak every now and then, the Myron Mixon 47101 Pitmaster Q3 is easy to use and clean and it is virtually maintenance-free.
Click Here for the current price!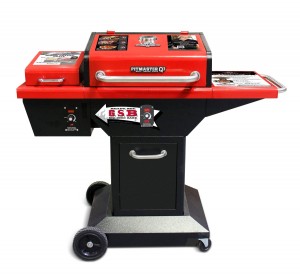 Features And Specifications
Firstly, this pellet grill and smoker comes with cast-iron grates designed to provide optimal and even heat distribution along the entire cooking area – this way, you can be sure to cook your food evenly, regardless of how you place it. At the same time, the grates are made of durable, long-lasting material that is rust-proof and can be used both indoors and outdoors.
The grill also comes with a digital thermostat that allows both the fan hold and the pellet auger to get a constant temperature throughout the entire cooking session. This way, you can set the desired cooking temperature depending on what you plan to do (be it to smoke, bake or grill the food) and leave the pellet grill unattended, without worrying that the food might get stuck to the surface.
The grill comes with a total cooking surface of 610 square inches, it has a LED temperature setting, a signature ashtray as well as a 24-inch barrel and 6-inch rubber wheels that allow you to easily carry the grill with you wherever you go.
The Pros
One of the main benefits of the grill is that it comes with an integrated water pan as well, and this allows you to add extra flavor profiles to your food, be it juice, water, sauces of any kind or any other liquid used for flavoring and spicing up the dishes. You can now add a touch of uniqueness to your cooking and take your guests by surprise, and you can also add a loaf pan to the grill as well (the pan must be purchased separately, as it is not included in the package).
Another benefit is that, as mentioned above, the Myron Mixon 47101 Pitmaster Q3 is very easy to clean and maintain, as cleaning the grill after a cooking session typically lasts only a couple of minutes, as opposed to cleaning other grills of such dimension.
The Cons
The only disadvantage of this grill and smoker is the fact that some users may consider it heavier than the norm. However, this is understandable given its generous cooking space.
Conclusion
If you are looking for a professional-grade pellet grill and smoker that is just under $500 and you want to show off your cooking skills every once in a while, then this one may be a good investment.