Weber is a reputable grill manufacturer, and the Genesis line of grills is by far their most renowned. The Weber Genesis S-330 Stainless-Steel 637-Square-Inch Grill is a masterpiece from all points of view: it has a beautiful stainless steel casing that gives it a sleek and professional finish, and its innovative burner design makes this grill unique and very much appreciated by barbecue fans.
Click Here for customer review or read more below.
Weber Genesis S-330
Weber 61012001 Genesis II E-330 3-Burner Liquid Propane Grill, Black
out of stock
as of September 27, 2023 5:52 pm
Features
Dimensions - Lid Open (inches): 62"H x 59"W x 31"D | Dimensions - Lid Closed (inches): 47"H x 59"W x 29"D | Total cooking area (square inches): 669 |
Equipped with the powerful Gs4 high performance grilling system
Use the side burner to Simmer BBQ sauce or sauté veggies
Sear station creates an intense heat zone to quickly add sear marks on meat
Porcelain-enameled, cast-iron cooking grates provide superior heat retention
Closer Look At The Features And Functions
Weber Genesis S330 has no less than 637 square inches of grilling space, perfect for a backyard barbecue with friends. In addition to this, the rod cooking grates are made from stainless steel and they are very easy to clean, while the push electric button allows you to turn on the grill quickly and effortlessly, without worrying about fire. The tubular burners are also made from stainless steel, and the grill comes with 6 handy tool hooks.
In addition to this, Weber Genesis S-330 comes with heat deflectors that are enameled with porcelain and each one of the three stainless steel burners comes with its own electronic ignition system.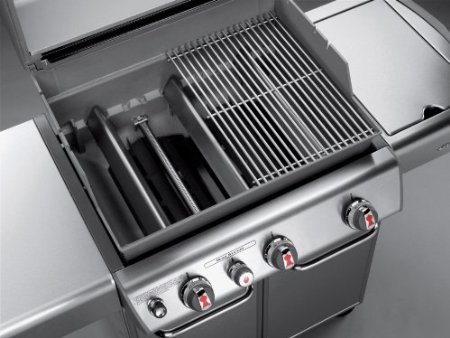 The Pros
Weber Genesis S-330 has several important benefits, and the efficient heat design coupled with the professional-looking grates makes it a popular choice amongst both professional chefs and amateurs. It is exactly this heat design that facilitates the ignition process and reduces the risk of fire, given the fact that the grill works on gas.
Moreover, the tool hooks and the burners have a solid and durable construction, and the aluminum coupled with stainless steel insertions not only add to the overall appearance of the grill, but also to its durability.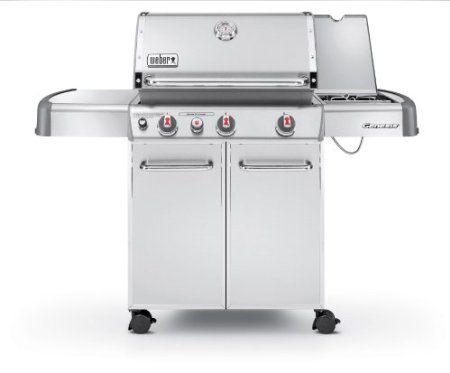 The fuel gauge, on the other hand, is also very important as it allows you to be up to date with your fuel levels: this way, you always know where you're standing.
The grease management, on the other hand, is a lot easier as compared to other grill models: whenever the juices drip off the meat they go down to the Flavorizer bars and then to the grease management system. You can now cook in a healthy, clean, safe and eco-friendly way with the grease management trays.
The Cons
Overall, this Weber grill is very handy and easy to use, but one of its disadvantages is its price: this grill costs just under $1000 on Amazon, and although customers will benefit from free shipping if they purchase the grill, the price might still be too much for some of us.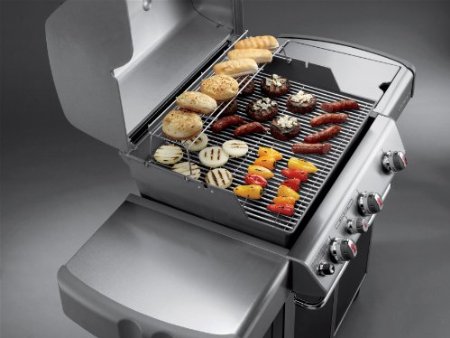 The Bottom Line
In conclusion, the entire Weber Genesis is a great long-term investment every customer will be proud of, but the Genesis S-330 Gas Grill is particularly useful. Easy to use and store, this grill has a beautiful and appealing design and you can clean it within minutes, given its outstanding grease management system.
The grill also has a center-mounted thermometer that will give you full control over the temperature of the grill all the time, while the stainless steel doors and handle will look as good as new for years to come, as they are not prone to rust.

Weber Genesis S-330 Review
Check Customer Reviews and Discounted Pricing Directly on Amazon.com
8.5

Total Score

Quality 8.5Value 8.5
User Rating: ( votes)