We just moved into our new home and I wanted to make sure that everything was perfect, especially my favorite part of the house which is the kitchen! Burgers and steaks were a favorite meal staple at our home so I really had to find the propane grill that would match my exact needs. My mom was the cooking expert in our family, and she asked me to check out the Weber Spirit E-210. I used to rely on just browsing online for cheap deals, but with a new house and a great kitchen, I needed to make sure that I was getting only the best.
The Details
With two stainless steel burners and porcelain-enameled cooking grates, I couldn't really say a lot about its aesthetic, but it fit right into how my kitchen is set up. I didn't want a grill with too many bells and whistles anyway, so this was just perfect for a beginning homemaker like I am. The swivel casters were ideal for locking in place, and the size was enough to prepare for dinner parties and special occasions. Although there were a lot more options in the market that seemed to be more technologically advanced, what is important is that it gets the job done. It heats up quickly without trouble, and that's the only thing that matters!
The Verdict
Although it was a little more pricey than the other models, I knew that I didn't want to settle for anything less. It's very easy to assemble and easier to clean. My mom was right about this brand, and since she has been using her Weber for over 10 years, I knew that this was really of excellent quality. You definitely won't go wrong with the Weber Spirit E-210. Stylish, convenient and the perfect accessory for all your cooking needs! See More reviews on Amazon for the Weber Spirit e-210 propane grill
Weber Spirit E-210 Propane Grill Review
Gas barbecue grills come in a wide variety, each designed to meet the needs of the individual outdoor cooking enthusiast. It does not matter if you are just starting out on this highly addictive activity or are a seasoned pro, you will find a grill that will take care of all your cooking needs.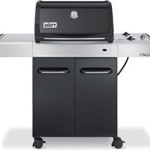 In other reviews, we have looked at Weber's portable or quasi-portable gas grills by reviewing members of the Q 100, Q 200 and Q 300 grill series. There are definitely more grills that fall into this category and we will be looking at some of those in future reviews.
The Weber 4411001 Spirit E-210 Propane Grill is Weber's first entry into the Spirit series of full-sized gas barbecue grills. Designed with the beginning griller in mind, the Spirit E-210 is also a good fit for the budget-minded outdoor cooking aficionado.
Ready to buy? Click here to purchase the Weber 4411001 Spirit E-210 Propane Grill at Amazon.
With the Weber Spirit E-210 propane grill, homeowners can now have a full-size grill as a more permanent grill on their patio or in their backyard. Starting with this entry-level barbecue grill featuring two stainless steel burners, you can move on to the three burner E-310 or even on to the E-320 which also includes a side burner.
You can see our Weber Spirit propane barbecue grills comparison chart here.
What we like about the Weber Spirit E-210 propane grill
Easy to move

I like the fact that the Weber Spirit E-210 grill comes equipped with 4 heavy-duty swivel casters that permits me to move the grill to various locations and lock them in place to prevent any movement while cooking. Is the wind blowing in the wrong direction? Just roll your grill to a new location and lock the casters in place. Just a simple method to adjust to the varying wind conditions the outdoor griller might face.
Spacious cooking surface

This entry-level gas barbecue grill comes with an impressive 350 square inches of primary cooking surface fed by two stainless steel burners. I just compared this to the size of my 4-burner kitchen gas range that has a total of 289 square inches. Therefore, this grill provides 21% more cooking surface than my gas range. In addition, this grill has a 108 square inch warming rack area for warming those buns for burgers or dogs or for just keeping previously cooked food warm.
Flavor – Flavor – Flavor

If you are tired of flare-ups, the patented Weber flavorizer bars are included with this unit. Precisely designed to direct excess dripping grease to the catch pan while vaporizing some of the juices from the meat (one reason I recommend keeping the lid closed as much as possible when cooking), these bars make a great addition to the ultimate grilled flavor. These bars sit between the grate and the actual grilling flame, thus aiding in disbursing the heat evenly throughout the grill. This arrangement allows for a uniform cooking temperature. Clean up at the end of the cooking session will not require a lot of effort due to the porcelain-enameled coating.
Two different fuel sources

Although designed for use with a 20 lb. propane cylinder (not included), this grill can also be ordered as a natural gas model that comes with a 10-foot flexible hose for ease in connection. I personally prefer the 20 lb. option for the sheer flexibility it provides.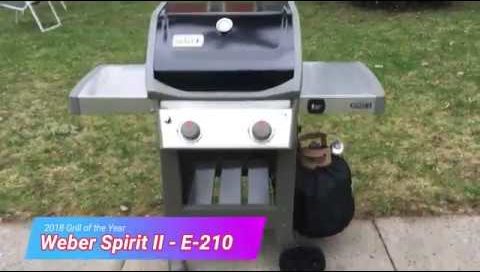 What I did NOT like (but not a deal breaker) with the Weber Spirit E-210 propane grill
Porcelain Enameled Steel Grates

My personal preference is for the cast iron grates but porcelain-enameled grates are a close second.
However, these grates do a great job of evenly distributing the heat to the cooking surface and are easy to clean and do not require the type of maintenance that cast-iron grates require.
What I do like is that these grates are easy to clean and do not need to be seasoned like cast iron.
When considering the merits of the different type of grates, the following is from Weber's faqs:


Which are better, stainless steel, porcelain-coated cast iron or porcelain enamel cooking grates?
All have their merits, so it is mostly a matter of personal preference. All require little maintenance and give great sear marks. Porcelain-coated cast iron grates will hold the heat longer so you don't have to cook with higher temperatures. Stainless steel grates have a longer warranty, followed by porcelain-coated cast iron, then porcelain enameled. Replacements are readily available for all styles.

All retail outlets with the exception of Home Depot sell this grill with porcelain enameled steel grates which should give you some idea as to the popularity of this grilling surface.
The burner control knobs take up valuable real estate on the side work table. However, with the controls in this location, it is more difficult for a small child to reach these same controls.
Is the Weber 4411001 Spirit E-210 Propane Grill the Grill for You?
Are you a beginning griller that just needs a grill with basic features?
Are you budget-minded when it comes to outdoor cooking?
Do you need a sturdy and good looking grill for placement on the patio?
Do you want a full-sized barbecue grill you can move around the back yard?
If you answered yes to any of the above queries you should look into purchasing either the Spirit E-210 or one of the other units in the Spirit lineup.