Weber restyled its Q100 series portable propane grills to the Q1000 series. While the grills have maintained their superb quality Weber did add a few aesthetic and functional modifications.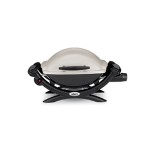 When you build a great product and launch it on the market you will always find a few things you could have done a bit differently. That is the case with the Q100 series now introduced as the Q1000 series. Weber has added the following enhancements:
Larger grip handle and control knobs
Ergonomic side handles
Sturdy front and rear cradles
The Weber Q logo is now branded in the lid
The following review was written for the original Weber Q 100 grill but also applies to the newly styled Q 1000 grill.
The Weber Q 100 / Q 1000 Portable Propane Gas Grill is a remarkable compact grill. Backed by the name Weber and the resultant quality construction, it is difficult to find a more versatile small grill. The Weber Q 100 / Q 1000 is the smaller of the Q series grills but still packs a wallop.
Click here for a quick comparison of the Weber Q series portable propane gas grills
This grill easily matches the task of preparing great outdoor cooking for the small family or group. With the ability to utilize 3 different fuel sources and its ability to achieve cooking temperatures quickly, the outdoor grillmaster will have your steaks and brats sizzling in no time.
Users have ascribed such adjectives as "excellent grill", "best of the best", and "best small grill ever" to the Weber Q100. When seeking comments related to this grill, there are very few Amazon user ratings below 4 out of 5 stars.
Video Review of the Weber Q100 Gas Grill
Ready to Purchase? – Weber Q 1000 Available on Amazon here
Included Product Features
Unassembled portable propane gas grill (easily assembled)
189 square inches of cooking surface (approximately the same area as 2 sheets of paper)
Cast aluminum lid and body (can result in heat dissipation in windy conditions)
Glass-reinforced nylon frame
8,500 BTU stainless steel burner (provides plenty of heat for searing steaks)
Push-button ignition (also called piezo-electric ignition)
Porcelain-enameled cast-iron cooking grates (Weber patented flavorizer system built-in)

Patented steel bars create delicious, barbecue flavor
Works by vaporizing juices and fats to create smoke
Porcelain-enameled steel for even heat distribution

Drip pan (useful for catching those elusive meat drippings)
What is Not Included
Bottled propane (14.1 or 16.4 oz cylinders) – available at your local home improvement center
Flexible tank adapter hose (for connecting to 20-pound fuel tank) – consider a braided hose if chewing animals are present
Is the Weber Q 100 / Q 1000 Portable Propane Gas Grill for you?
Do you have a small family size? (2 to 4 persons)
Do you like the taste of grilled meats and/or vegetables?
Do you like a grill that heats quickly and generates enough heat for searing?
Do you like the ability to easily transport your grill to a different location?
Do you like to tailgate or camp out?
If you answered yes to any of the above questions, then this grill is for you.
If you have a larger family or regularly grill for guests, you may wish to visit considered one of Weber's other gas grills in the Q series.
Compare Prices and Merchants for the Weber Q 1000 Portable Propane Gas Grill Here
What worked for me
The convenience of a gas grill
Portability – Easy to use
Just the right size for a small family
What didn't work for me
Due to its size, there is only one burner
Height of lid may restrict the size of meats that can be prepared
What Others are Saying about the Weber 386002 Q 100 Portable Propane Gas Grill
Best little grill ever
Had I known how smitten I'd be with this grill, I would have ordered the Q120 instead
Yes, it was worth the money