WEBER Summit is designed for the ultimate backyard kitchen and is a top of the line choice for any backyard grilling enthusiast.  The grill has a stainless steel body and is meant to be easily assembled into your backyard kitchen. It comes with a Slide Frame installation design and with only minimal assembly required.
The attractive design of the weber Summit will add to your backyard décor with its beautiful design and grilling options. The grill comes with a storage area below the grill you can keep tools stored out of the way behind stainless steel doors but still accessible when needed.
The Weber Summit series of grills are Weber's flagship models, they are top of the range grills designed for serious grillers and the Weber Summit S670 is the top of that list. The "S" in S670 means a silver model, although this grill is also available in black, click here for details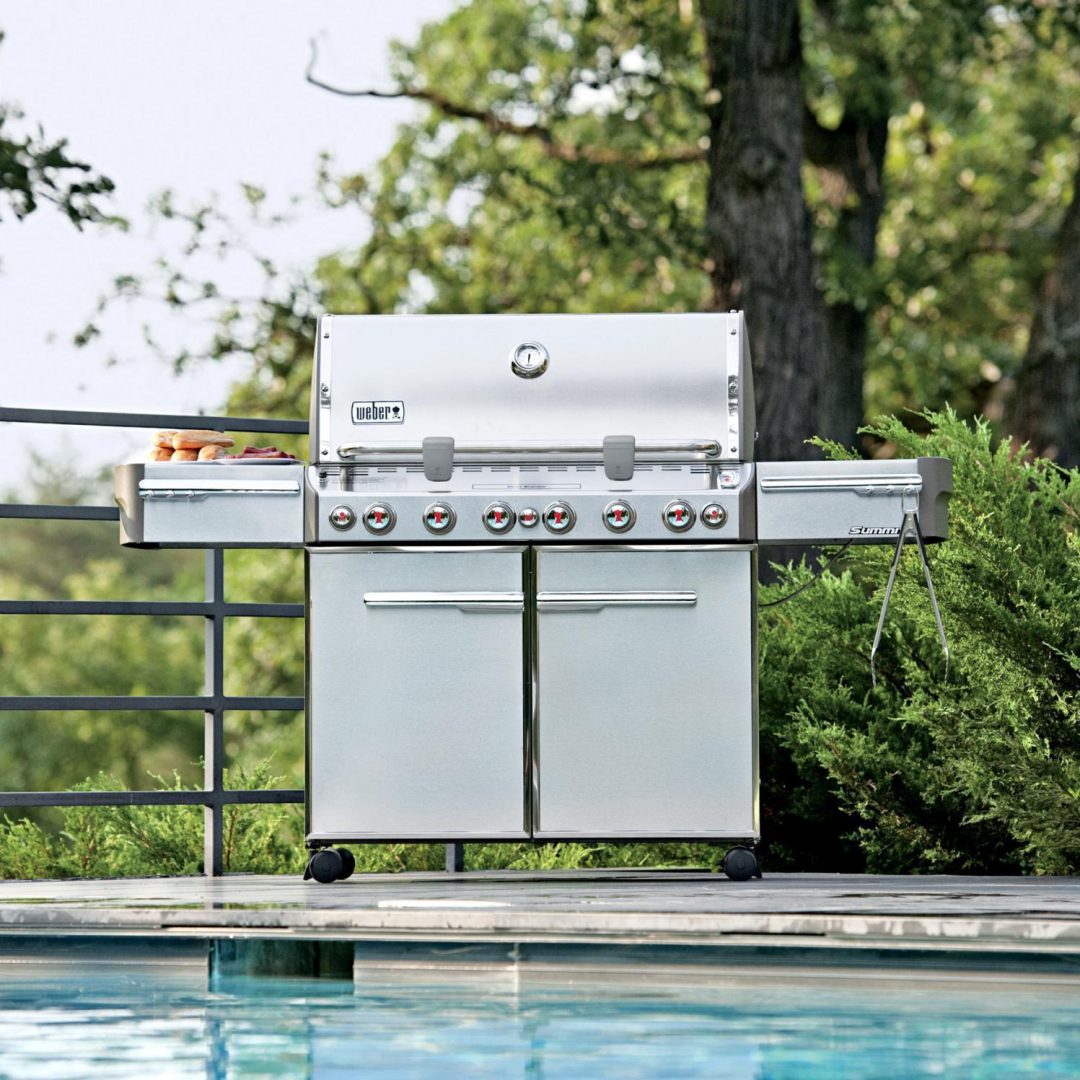 With its impressive power and size, the Weber Summit S670 cannot be beaten on value for money. It's a full grilling system with an impressive main grill, powerful side burner and electronic rotisserie making it a very versatile tool and good for year-round use. It's finished in high-quality stainless steel and has all the nifty extras you find on Weber Grills. It's built in the USA and comes with Weber's guarantee of quality.
Weber Summit S670 Features
The Weber Summit S670 is big enough for 2 people to work on it at the same time. It's powerful enough to cook for large groups but due to Weber's advanced burner control, you only have to light what you need. Available in Classic Black or Shining Silver, the Weber Summit S670 adds more than just style to your backyard. The Sear Station is designed to allow you to step-up power on demand to get the perfect sear. Individual lighted control knobs make the dials easy to see if you are grilling at night, while the built-in tuck-away rotisserie ensures perfect grilled chickens and racks every time.
Infrared Rotisserie System
Rear-mounted infrared burner and tack away rotisserie system. Complete with pop-up motor for complete control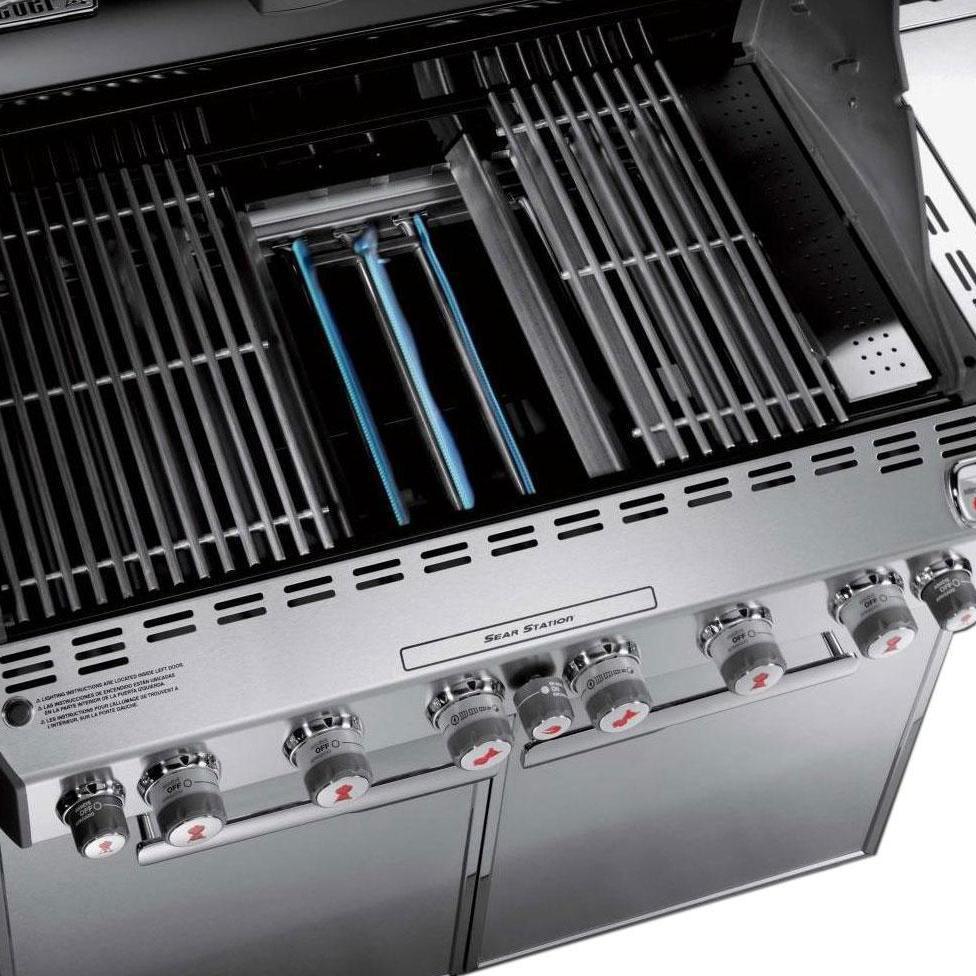 Sear Station Burner
High powered 10,600 BTU burner to sear the perfect steak. No need to crank up the whole grill to get that perfect sear, the Sear Station Burner gives heat on demand.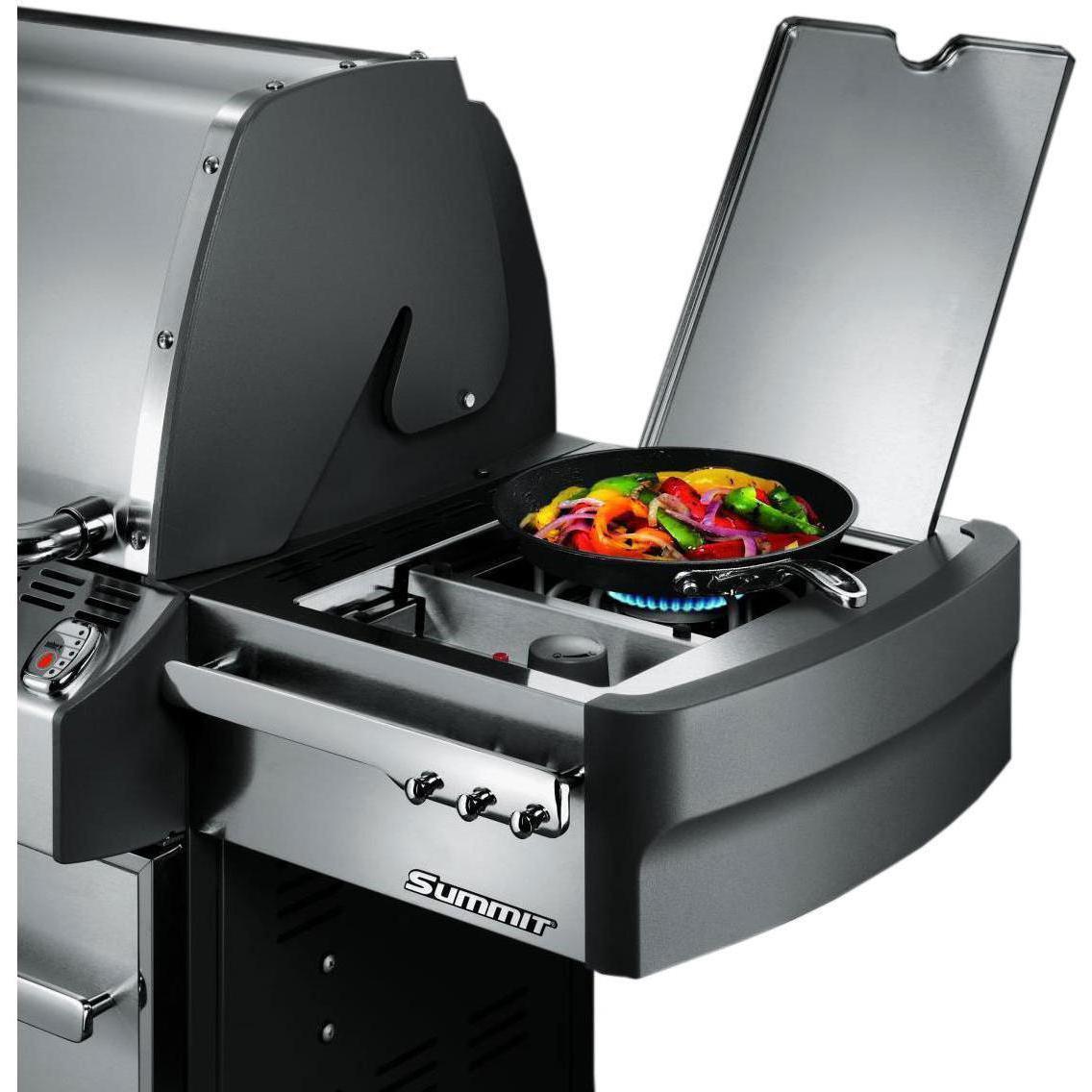 Illuminated Control Knobs
Powered by LED, these illuminated knobs put off a clean, bright glow so you can control your grill day or night.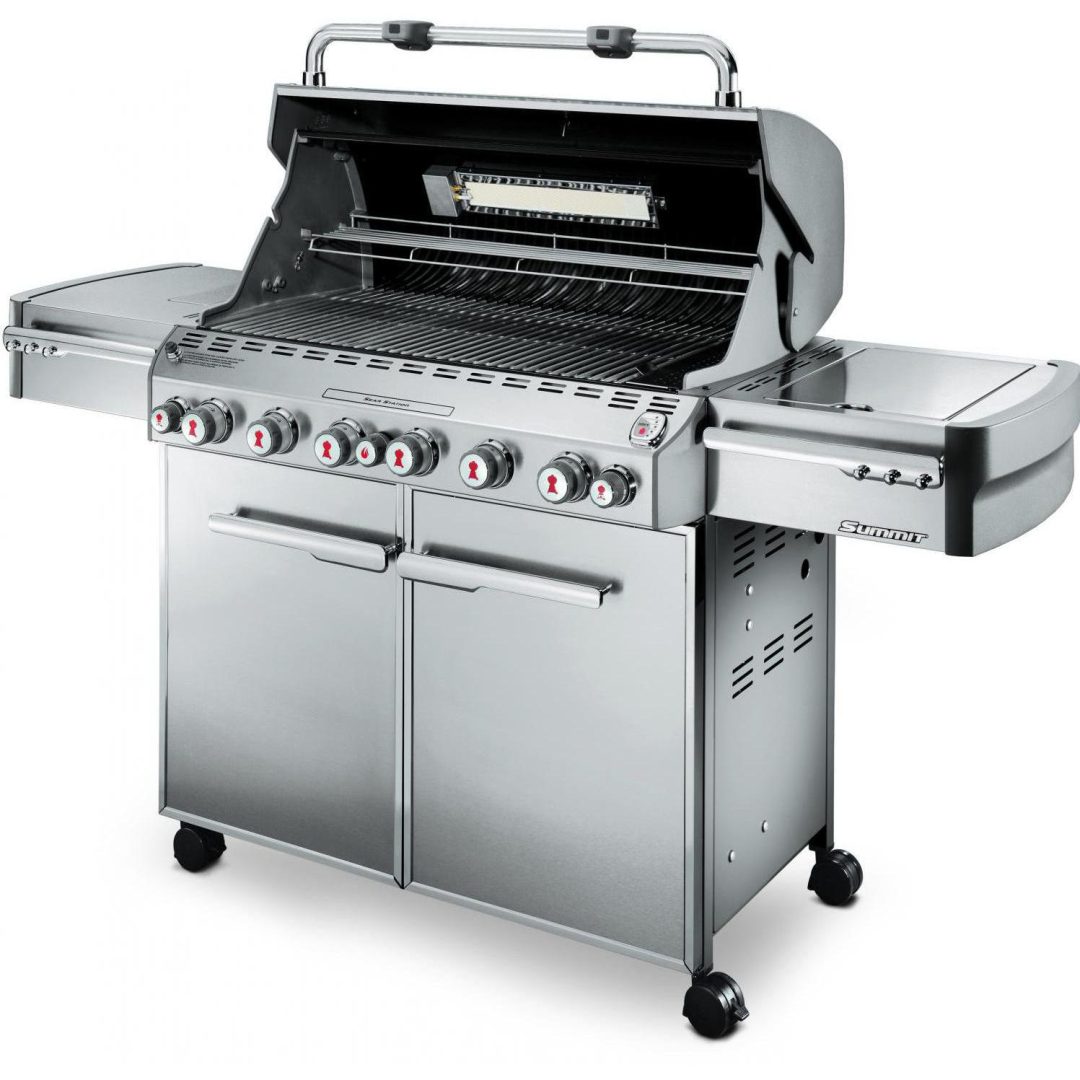 Weber Summit S670 Specifications
The Weber Summit S670 has 6 stainless steel burners with a total of 60,000 BTU-per-hour input
12,000 BTU-per-hour input flush-mounted side burner
6,800 BTU-per-hour input smoker burner and stainless steel smoker box
10,600 BTU-per-hour input infrared rear-mounted rotisserie burner
Tuck-Away rotisserie system with flip-up motor and separate spit and fork storage in the enclosed cart
3/8 inch or 9mm diameter stainless steel rod cooking grates.
Primary cooking area = 624 sq in
Warming rack area = 145 sq in
It measures 74 inches wide, 30 inches in depth and just over 57 inches in height
Weber Summit S670 Reviews
This backyard kitchen grill has over 769 square inches of cooking space including 624 square inches of primary cooking space and 145 square inches of warming rack area.  The WEBER Summit provides 60,000 BTU of total grilling power.
There are six stainless steel burners available with the option of using a sear burning station when needed. The WEBER summit is a natural gas grill that eliminates the need for storing fuel.
The grill allows you to grill up to 39 hamburgers at once to easily feed a large party of family, friends, and neighbors. The temperature gauge is mounted on the front of the grill for easy monitoring. The snap-jet ignition system makes starting the grill a breeze and a front-mounted thermometer makes monitoring the grill easy and accessible.
Additional options include an infrared rotisserie grill with a rear-mounted flip-up motor; this provides additional grilling options but is designed also for easy cleanup.
Summit is designed for ease of both grilling and cleanup allowing you more time with your friends and family.  There is front access to the stainless steel grease tray with a catch pan for easy access and clean up.  The grill slides in and out for easy service and cleaning.  And it comes with a premium cover helping to protect it from the elements between uses and making cleanup and maintenance less of a hassle.
The grill is easily assembled and integrated into your backyard kitchen and provides flexibility in your cooking options.  The beautiful design adds to your investment in your outdoor kitchen.  The functional design and ease of use options will make this an enjoyable and durable grill for many years to come.
Nearly every bit of information and review we can find about the Weber Summit S670 is positive. It really is a very good grill. And it should be, it retails for $2,500 dollars and that's a lot of twines. However, if you do have that kind of money to spend on a grill, and you want real value for your money, this is the best choice by far. It's sheer power and convenience, sear your steaks on the sear station to seal in all the lovely juices, then let Weber's Flavorizer bars do their job to add lovely smokey taste. Your guests will be talking about your cookouts for time to come.
In all our searching, the only negative reviews about the Weber Summit S670 discuss a problem relating to an earlier version of the grill that had a problem with rain getting into it. This seems to be resolved in the newest version of this grill. Every reviewer on Amazon gave it top marks of 5 stars.
First of all, I'd like to start by saying that this grill was nearly $500 cheaper on Amazon than at our local Great Indoors. Plus, shipping was free and arrived in 3 days!…I cannot comment highly enough on the effective cooking of this grill. The searing station in the middle is SWEET and works well for steaks. I can't believe how much better my steaks taste when I sear them first. – Adam
I purchased Weber S-670 for $1814 via Amazon.com… $789 less than list, 500 less then the cheapest demo I could find. Bottom line, $500 cheaper, NO SALES TAX, NO SHIPPING Cost. I ordered Tue and was delivered Fri. Driver showed up in a 28′ tractor-trailer, he was amazing, UPS/FEDEX can't stay on the driveway and constantly run over the grass, this guy, stayed on driveway the entire way up the driveway… Required 40 min to assemble; total of seven screws, took more time to unpack and peel off the protective tape on the stainless steel then it did to assemble. It is heavy but move to final location before assembly and you will have no problem. Once assembled this grill moves around like a champ on level surface. If this is the grill you desire, you are a fool for not ordering via amazon, way cheaper, fast and painless. – C. Mill
Weber Summit S670 Conclusion
If you want the very best in grills then the Weber Summit S670 is the grill for you. It's hard to describe just how good this grill is, you just have to try it and see for yourself.  It's built in the USA and covered by Weber's limited warranty so you can be sure you are getting the best quality money can buy. Buy it from Amazon and save up to $500 on store prices.