The Weber Q3200 is the flagship of the Weber Q Series Grills, built using the highest-quality materials, it's guaranteed to last a long time. It can accommodate 18 burgers or 26 jumbo hotdogs at one time. It comes attached to a handy cart making it easy to move and pack away. In contrast to the smaller Q1000 and Q2000 series grills, Weber Q3200 uses full-size refillable propane tanks which gives much more power and heat when you need it.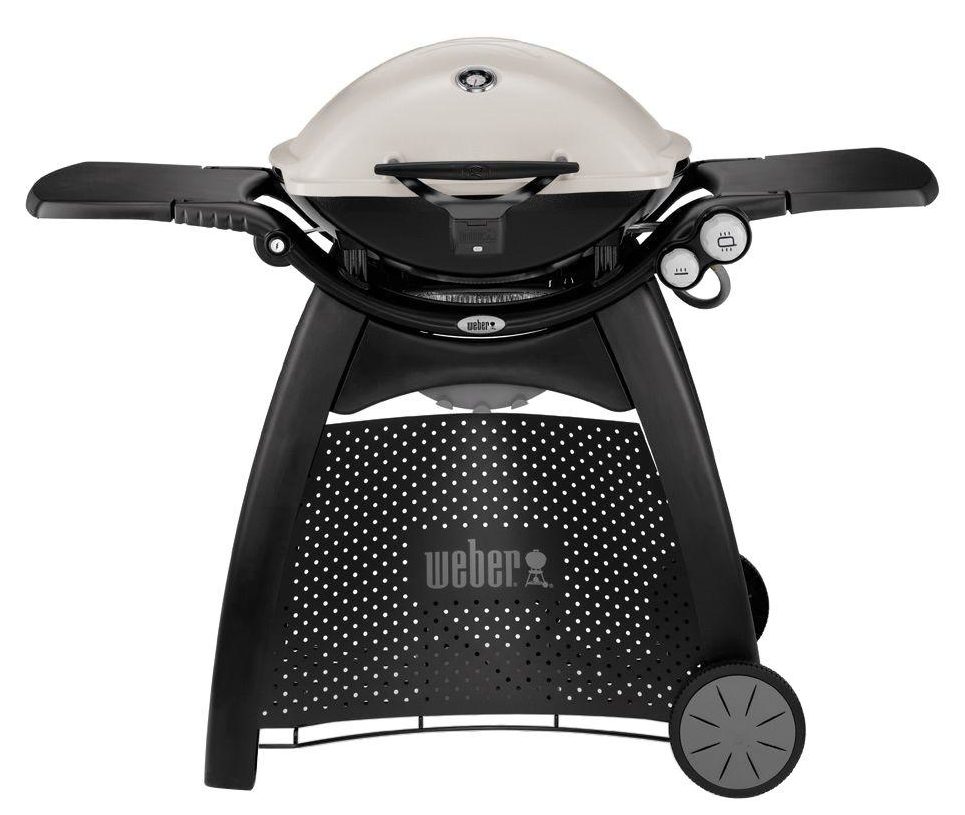 Weber Q3200 Features
The Weber Q3200 features dual stainless steel burners with 21,700 BTU input, more than enough to get the grill hot and keep it hot. The grill ignites with the push of a button using its crossover ignition system and its adjustable burner valve makes controlling the heat simple.
The cart holds the gas tank out of the way and provides fold-down tables and handy utensil hooks. The Weber Q3200 is made from cast aluminum for durability while the stand is made from sturdy glass-reinforced nylon. It features a taller lid profile than the smaller Q series Grills which allows it to include a warming rack for keeping food warm.
Two Stainless Steel Burners
Two Stainless Steel Burners deliver maximum heat. Turn off the inner burner for indirect cooking.
Large Capacity Cast-Iron Cooking Grates
Two large capacity cast iron cooking grates allow you to cook up to 18 hamburgers or 36 jumbo hot dogs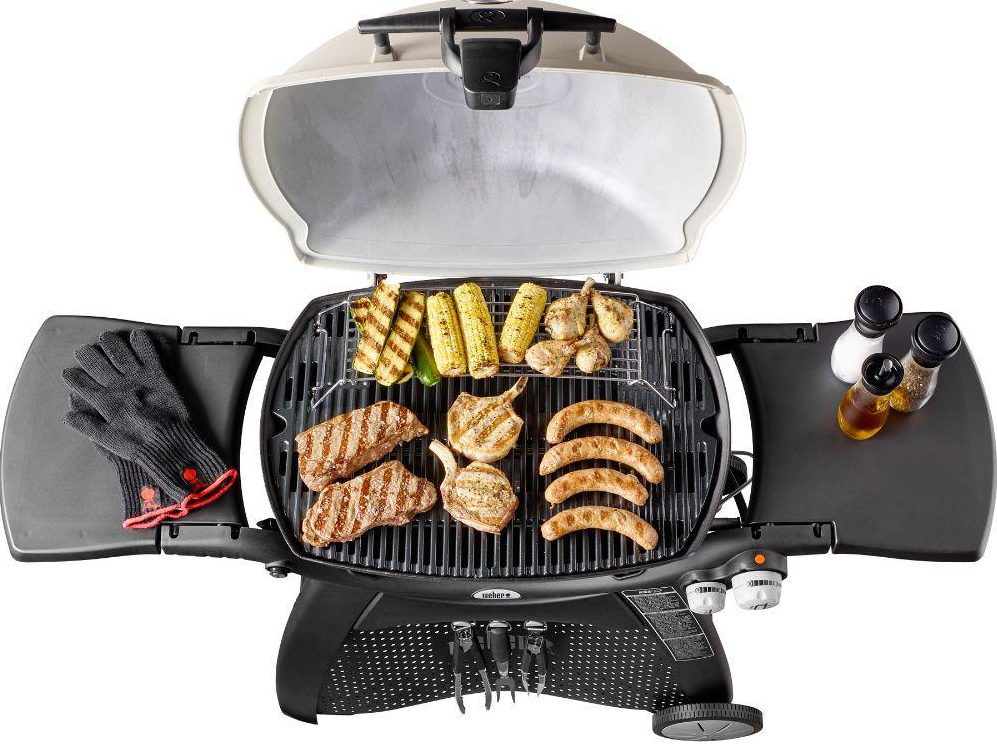 Sturdy Cart
The handy cart keeps the propane tank out of view. Includes a hose and regulator for connecting to a 20LB tank.
Weber Q3200 Specifications
The Weber Q3200 has 2 stainless steel burners with a total of 21,700 BTU-per-hour input
Electronic crossover ignition system
Infinite control burner valves
Porcelain-enameled cast-iron cooking grates
Total cooking Area = 462 sq in
It measures 50.2 inches wide, 30 inches in depth and 55.5 inches in height
Weber Q3200 Reviews
The reviews of the Weber Q 3200 grill are great. Almost 80% of reviewers give it top marks of 5 out of 5. It's a good grill if you are looking for something powerful and portable that doesn't cost a fortune. The grill is easy to light and heats quickly. It's powerful enough to reach high searing temperatures and large enough to cook 2 chickens at a time. Many people prefer the cast iron grill as the spacing between bars is smaller so not so many lost sausages. The only negative reviews seem to deal with the grill arriving damaged which could be more to do with the delivery company than the actual grill itself. Weber seems to bo on the ball with replacements though so even if you get this grill and it arrives damaged, all is not lost.
This compact grill heats faster and cooks better than any $300 big box model, even if said model is rated at > 40,000 btu and the Q 3200 is "only" 21,700 btu. Sears steaks and veges like no one's business and also does great roasting with the burners turned down. A snap to assemble (no cussing required) and also pleasing to the eye.
I've owned every type of BBQ grill over my 70+ years. The Weber Q3200 is the best of the lot. I switched from charcoal to gas grills about 35 years ago because gas grills are so much less trouble. The one thing I liked about charcoal grills is the flavor derived from the smoke formed when juices dripped onto the hot coals. Early gas grills I owned duplicated that effect with lava rocks. But lava rocks were different sizes and sometimes fell through the supporting grate. Then ceramic briquettes became available. They were standard in size and easy to form into a pattern to catch the drippings. But ceramic does deteriorate over time so it wasn't a perfect solution.
Weber Q3200 Conclusion
The Weber Q3200 is a great grill. If you are looking for something a little bit smaller than the full cart models but don't want to sacrifice on power than this is the grill for you. Anyone who bought this grill from my shop was happy with it. It's well built and portable but big enough for most family gatherings and cookouts. In my opinion, it's better than the bigger Weber Spirit E210 grill.
It's nylon cart and aluminum build make it more weather-resistant than some other models even some costing much more money. Have a look HERE at the reviews yourself to see how many happy customers rave about the Weber Q3200.