Garden patio heaters are becoming increasingly more popular in the domestic market, and there are a number of quality gas patio heaters on the market that are the ideal solution for extending the season. There are a number of different modern and stylish patio heaters designs in a range of modern colors, that will provide years of reliable service.
They are extremely easy to use and will provide warmth in a 2.5m to 5m circle, depending on the weather conditions, or several heaters can be grouped together to give overlapping heat and create all-around warmth. If you are limited for space there are several portable tabletop heaters, that are ideal for heating a small circular or square table of up to one meter.
Now you, your family and friends can continue to enjoy great bbq food with that extra glass or two of wine and stimulating conversation, by sitting under or around one or more patio heaters that will shield you from the cold and wintery evenings, and keep you warm and cozy.
After all, there is nothing worse than getting cold in the early evening hours when the fun is just getting started!
Many of the patio heaters are made from stainless steel which is modern looking and ideal for most gardens, you can, however, get patio heaters that will give a rustic look, and appeal to many people.
Looking ahead to the darker evenings a Gazebo, outdoor lighting, and some garden furniture will also enhance your barbecue party. When you have finally finished with your patio heater for the year, make sure you clean it properly before storing, and where necessary use a patio heater cover to protect your investment.
Patio Heater Manufacturers
There are several high-quality manufacturers of patio heaters who's design, power output and cost all vary according to the model. When choosing a suitable patio heater, be sure to take a look at our patio heater F.A.Q. which will answer many of your questions prior to shopping for one.
Recommended Patio Heaters
Lifestyle
If you love your garden you'll love Lifestyle! The range encompasses an even wider choice of new and exciting alternatives to help you make the most of the great outdoors and year-round alfresco entertaining.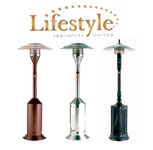 Every item in the Lifestyle! the range has been designed for maximum performance and optimum quality. When you purchase a Lifestyle product you can be sure that you will have a product that will give you the ease of use in operation and years of lasting pleasure. Enjoy living… Enjoy Lifestyle! These are just a few of the patio heater manufacturers, and there are dozens more catering for the U.S. and European markets as well.
Great Spaces Electric Heaters
The powerful 2kw elements in the Great Spaces electric space heater are so good that they are equivalent to a 10kw gas patio heater. There is almost no heat loss through the top cowl, ensuring that you are warming yourself and your guests and not the skies above!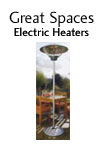 What's more, because the electric space heater elements are so efficient, running costs are about 10% of those of a typical gas heater of the same output.
Great Spaces Direct Designs
These 'Hotspot' patio heaters from Direct Designs are unique in the respect that they are designed to be used as freestanding or table heaters. The table clamp allows the customer to quickly and easily convert the heater to the tabletop setting and is compatible with parasol holes of between 30 to 60mm in diameter.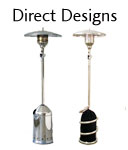 The gas bottle sits underneath or to the side of the table whilst the base, that is no longer required can be stored elsewhere. All are fitted with a 13.8kw burner head. The heat output is fully adjustable and at full heat, will produce a heat circle of 6 meters.
Patio Heaters FAQ
Patio Heaters – How much do they cost?
The cost can vary considerably, but the cost of patio heaters has come down over the last few years. Generally speaking, most entry-level propane-powered patio heaters start from around the $150.00 and rise to over $400.00. Cheaper models are available that are more suitable for fishermen etc. as they offer a much smaller "hot spot" of heat. These scaled-down patio heaters start from around $70.00.
Patio Heaters – What about safety?
When buying a patio heater, see if it is designed to allow itself to be bolted or screwed down into your patio flooring or decking. If the patio heater is not equipped with a means to fix it down, ensure that it is equipped with a tilt shut-off mechanism that stops the fuel from being burned should the patio heater be accidentally knocked over?
How much heat does a patio heater give off?
This depends entirely on the power output and the efficiency of the design. You will find that most high-powered models are rated at around 13kw and above, and offer a "hot spot" of around an 8-meter radius to encompass your guests with. Of course for large patios, you may well need more than one patio heater to provide enough heat for all your guests. It is always a good idea to find out the "hot spot" radius before ordering so you can work out whether one patio heater will provide enough coverage.
What is a commercial patio heater?
These are generally the ones you will find in pubs, clubs, and restaurants. They are more robust to have higher heat output with control and a safety cut off. Please note there are Chinese copies on the market and from a distance they look very similar. All of our heaters are for UK/USA/Canadian markets and manufactured to the highest western standard. Ensure that your patio heater is not one of these lower quality copies.
Patio Heaters – How much gas will it use?
That depends on the setting. Most patio heaters have a pilot control so you decide how high or low you want the heat to go.
At 11KW the burn rate is 1kg per hour, though this can, of course, vary according to how high you have your patio heater set to.
Ensure that your patio heater comes with variable power control for the best results and economy.