A nice barbecue grill and one that gives the best bang for the buck is the Traeger Pro Series 22 (formerly Lil' Tex) seen in the picture below. We used to use the Lang Model 60 exclusively on the competition BBQ circuit, but we switched to the Traeger pellet smoker for several reasons.  Ease of use – When you cook a brisket or Boston butts, you have to start the night before if you want to do it right. So you have to tend your barbeque grill for 16 hours or more. Let me tell you… feeding a traditional offset smoker like the Lang is a tough job. Especially on a long overnight smoke. That's a lot of chopping wood! And even if you do use charcoal in your barbeque grill, you still have to check your temperature every 15 – 30 minutes. With the Traeger pellet smoker, you just set it and forget it. By the way,  the extended pellet hopper is a must.
Traeger Pro Series 22 Wood Pellet Grill, Bronze
3 new from $599.95

as of September 29, 2023 2:04 am
Features
Grill, smoke, bake, braise, roast, or barbeque
Digital Controls
The Traeger barbeque grill comes with a standard 3 settings electronic temperature control. High – 425 deg F – 450. Medium – 300 – 325. And "smoke" which is 180 – 220. Now any halfway decent pitmaster knows that these 3 settings are not going to work. Good barbeque is all about times and temperatures. So… I highly recommend the digital control for the Traeger. The digital control allows you to set a specific temperature and then the unit checks the cooking chamber temperature every 15 seconds and starts and stops the pellet auger accordingly.
Even Heating
With a traditional offset style barbeque grill, you are going to have hot spots and cold spots resulting in inconsistent results. With the Traeger's draft induction fan, heat shield, and steel drip pan, the heat and smoke effectively envelopes your meat in the cooking chamber resulting in even, consistent cooking temperatures.
Real Wood
The pellets are 100% hardwood and will impart a delicious smokey flavor to your meats. Available flavors are alder, apple, cherry, garlic, hickory, maple, mesquite, oak, onion, and pecan.
Price
The Traeger Lil' Tex barbeque grill starts around $695. The digital control is $189 and the extended pellet hopper is $19.95. A 20lb bag of pellets is $18.99. Compare this to a traditional offset barbeque grill for which prices start at $1600 and go up from there, you can see why you can get more bang for your buck with the Traeger Lil' Tex.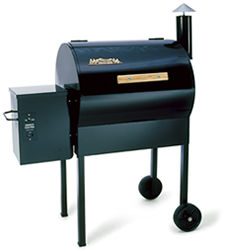 The Lang Model 60 is $2195. As you can see, you can buy 3 Traeger Lil' Tex's for the price of one Lang Model 60. And you may need three too! The cooking surface on the Traeger Lil' Tex is only 418 sq in. The Lang Model 60 has a bottom cooking surface of 1188 sq in and an upper rack surface area of 468 sq in. Having several Traeger Lil' Tex's in a barbeque contest is not a bad idea either. That way, you can cook different meats at different temperatures. Of course, you only need one for your back yard!