The number one most important thing when it comes to making a good rub is quality ingredients and that's all you're going to get with these Traeger rubs. It's always going to be quality, There's never going to be any  MSG in there. They don't put any anti-caking agents in their rubs. It's all going to be herbs and spices that you can recognize, seasonings you know – none of that other stuff that really just doesn't belong in there.
Used on meat and poultry, Traeger rubs add great flavor.  Traeger rubs have been used worldwide for many years, and have become known for offering a great variety of flavors to complement all barbecued meats including pork, chicken, lamb, beef and even fish and vegetables.
Top Traeger Rub Deals
Traeger Grills SPC174 Traeger Rub with Garlic & Chili Pepper 9 Ounce (Pack of 1)
4 new from $9.80
1 used from $23.88
Free shipping
as of September 14, 2023 2:02 pm
Features
Great Tasting Cooking Seasoning: Features garlic and chili pepper flavors
Compatible Meat/Proteins: The perfect BBQ rub to complement your beef, pork, or chicken
Easy Storage: Rub comes in a stackable aluminum tin container
Kosher, gluten free, and GMO free
Made in USA
Traeger Grills SPC207 Anything Rub with Salt, Pepper, Garlic & Spices 7.5 Ounce (Pack of 1)
1 used from $24.59
Free shipping
as of September 14, 2023 2:02 pm
Features
A trustworthy blend of salt, pepper, garlic, and spices
Great on ANYTHING
Salt, tri-color pepper blend, garlic, onion, & spice blend
7.5oz tin
Certified Kosher ingredients
Traeger Grills SPC208 Perfect Pork Rub with Brown Sugar, Paprika & Garlic 6.5 ounce
as of September 14, 2023 2:02 pm
Features
Sweet & savory rub that pairs perfectly with pork
Good on anything, great on pork
Notes of brown sugar, paprika, chili powder, & garlic
6.5oz tin
Certified Kosher ingredients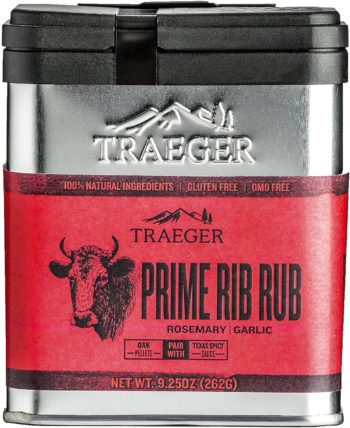 Traeger rubs are available in small and large sealed plastic containers that can be stored and kept fresh for months worth of use. Try Traeger rubs and taste the difference.
Barbecue Rub – The ever-popular Traeger rub! Still a great tasting barbecue rub that has an aromatic spiciness with a touch of smokiness.
Beef Rub – A course grind combination of tempting spices, including dill and garlic. The Traeger beef rub is great to use on all beef cuts.
Chicken Rub – A combination of fresh pepper, black and chili pepper, and a hint of annatto brings true barbecued chicken flavor.
Prime Rib Rub – Strong seasonings with a big garlic base offers the ideal seasoning for catering standard prime rib and is particularly good in cocktails.
Sweet Rub – Excellent on pork, poultry, and beef. A mellow, tangy mix of flavorsome seasonings that is truly special.
Recommended
Beef Shake – Lighter than our Beef Rub. This shake includes garlic, onion and as a surprise–natural lemon flavoring. Truly wonderful on steaks and smaller cuts of beef.
Cajun Shake – A fair amount of heat without being overly powerful. Pepper, garlic and other delicious seasonings emphasize a genuine taste of the Bayou.
Pork & Poultry Shake – A good all-rounder barbecue rub. Flavorsome spice and herbs including Coriander, Thyme, and Turmeric add their distinctness to improve the subtle flavors of barbecued meats.
Salmon Shake – We have to keep reminding people that this barbecue rub is not just for salmon, or even fish.  This barbecue rub can be used on almost anything, including pork, chicken, turkey, and lamb.
Veggie Shake – A mouth-watering, and spicy blend of salt, black pepper, red pepper, dill, coriander, garlic herbs, and other seasonings, this shake is perfect for barbecued vegetables, along with pork and fish.
Operating a Traeger Grill
Cooking on a Traeger grill adds zero fat, cholesterol or calories to your food., and is considered to be much healthier. The Indirect cooking systems are recommended by the National Cancer Institute because they produce less benzopyrene. You may also like to find out how to operate a Traeger grill.
Traeger Wood Pellets
Traeger grills exude quality and are made famous through their quality design as well as their own proprietary Traeger Wood Pellets which provide a very efficient heat source. Traeger Wood pellets are available in a variety of different flavors to enhance the flavor of cooked food. All Traeger owners will benefit from using Traeger Wood Pellets.